DUP rule out Brexit customs barrier for Northern Ireland
Northern Ireland will not accept a customs barrier separating it from the UK after Brexit.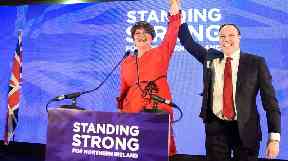 Northern Ireland will not accept a customs barrier separating it from the UK mainland after Brexit, the DUP has warned Brussels.
Party leader Arlene Foster marked the issue as one of her red lines at the DUP party conference on Saturday.
She said she had written to the 27 remaining EU states outlining the party's stance.
To date Brussels has insisted that Northern Ireland should continue to comply with an EU customs framework when the rest of the UK leaves the single market and customs union.
But the DUP is adamant Northern Ireland be treated the same as England, Scotland and Wales.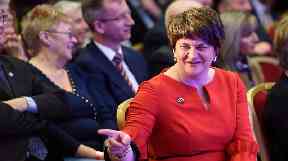 The matter remains a point of fierce contention ahead of a crucial EU summit in Brussels next month, where member states will decide whether to move Brexit talks to the next stage.
This decision will be based largely on the success of negotiations so far.
If Downing Street was to cede any ground to the EU over the issue then serious strain would be put on Theresa May's minority Conservative government confidence and supply arrangement with the DUP.
Britain, Brussels and Ireland are all trying to strike a deal which avoids the imposition of a hard border between the latter and Northern Ireland.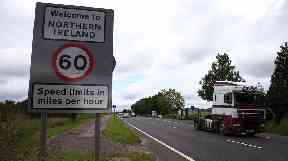 Mrs Foster told the conference: "We want a sensible Brexit. A Brexit that works for Northern Ireland and for the United Kingdom.
"However, we will not support any arrangements that create barriers to trade between Northern Ireland and the rest of the United Kingdom or any suggestion that Northern Ireland, unlike the rest of the UK, will have to mirror European regulations."
Mrs Foster also rejected fears that Brexit could split Northern Ireland from the rest of the UK.
She labeled herself a "unionist by conviction and unashamedly so".
The confidence and supply deal, which sees the DUP's 10 MPs support the Government on crucial votes, was front and centre of proceedings.