Sky Sports presenter's wife dies days after cancer diagnosis
Simon Thomas has spoken of 'indescribable pain' after the death of his wife Gemma.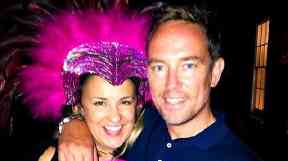 Sky Sports presenter Simon Thomas has spoken of "indescribable pain" after his wife died just three days on from being diagnosed with leukaemia.
Thomas, who used to be the face of BBC's Blue Peter, said his partner Gemma passed away on Friday.
She fell ill on Tuesday and was quickly diagnosed acute myeloid, a cancer of the blood and bone marrow.
Football anchor Thomas, who joined Sky Sports in 2005, asked for prayers for his eight-year-old son Ethan.
Having revealed the news on Twitter, Thomas was inundated with messages of sympathy.
In a tweet on Saturday, he wrote: "Today I am crushed with indescribable pain.
"Just three days after falling ill with acute myloid (sic) leukaemia, my dear wife Gemma passed away yesterday evening surrounded by her family and friends.
"If you are a prayer - pray for my boy Ethan. 8yrs, precious and in bits."
Phillip Schofield, sports presenter Simon Brotherton, footballer Jamie Vardy and the BBC's Dan Walker were among many thousands to extend their condolences online.