Prince Harry: 'Diana would be over the moon for us'
The couple have given their first interview following the engagement announcement.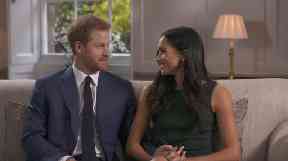 Prince Harry has said he thinks his fiancee and his late mother Princess Diana would be "thick as thieves without question" during the couple's first interview following the announcement that they are to be married next year.
The couple, who have been dating for 16 months, first met at a private members club in London in the summer of 2016.
Prince Harry said his mother would be "over the moon" for the newly engaged couple: "She would be jumping up and down, so excited for me, but then would probably have been best friends with Meghan".
Ms Markle's engagement ring is said to have been designed by Prince Harry and contains three stones, two of the diamonds are believed to be from Princess Diana's personal collection.
Harry added: "It is days like today when I really miss her being around and miss her to share the happy news with but with the ring and everything else I'm sure she's with us".
Talking about the proposal the couple said the engagement took place in their cottage a few weeks ago during a "typical, cosy night".
Ms Markle said: " We were trying to roast a chicken, it was just an amazing surprise, it was so sweet and natural and very romantic, he got on one knee".
Asked if it was an instant 'yes' from her Meghan said: "Yes, as a matter of fact I could barely let [Harry] finish proposing, I said can I say yes now?"
To which Prince Harry replied: "She didn't even let me finish, then there was hugs and I had the ring on my finger and I was like can I do the ring and she said 'oh yes do it', so no it was a really nice moment, just the two of us and I think I managed to catch her by surprise as well".