Prince Harry and Meghan Markle to get married in May
Royal wedding will take place at St George's Chapel at Windsor Castle.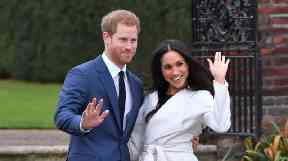 Prince Harry and Meghan Markle will marry in St George's Chapel at Windsor Castle in May 2018.
A spokesman for Prince Harry said the wedding "will reflect who they are as a couple".
The royal family will pay for the wedding, including the church service, the music, the flowers and the reception, Kensington Palace said.
The American actress, who will become a senior HRH on marrying into the royals, also intends to become a British citizen.
As the couple make preparations for their big day, Ms Markle, a protestant who went to a Catholic high school, will be both baptised and confirmed, ready for the religious ceremony.
St George's Chapel is the same venue where Harry's father, Prince Charles, was blessed in a civil union with Camilla Parker Bowles in 2005 and where Prince Edward wed Sophie Rhys-Jones in 1999.
Harry's communication's secretary Jason Knauf said Windsor was a "very special place" for Harry, and that he and Ms Markle had spent time there together during their 16-month romance.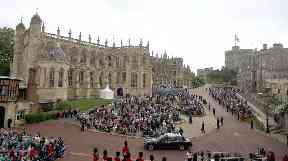 He said the couple were delighted to be holding the wedding in the "beautiful grounds of Windsor".
Harry and Ms Markle announced their engagement on Monday, ending months of speculation.
The pair has been a couple since being introduced to each other by a mutual friend in London a year-and-a-half ago.
Kensington Palace also confirmed Harry and Ms Markle will carry out their first official engagement in Nottingham on Friday.
Ms Markle's belongings are being shipped from her home in Toronto, Canada, to Kensington Palace in London.