Harry and Meghan to carry out first official engagement
The Prince and his fiancee will attend a civic welcome at a museum in Nottingham.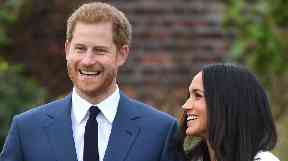 Prince Harry and Meghan Markle will take part in their first official engagement together on Friday. The couple will travel to Nottingham to help raise awareness of HIV/Aids and efforts to tackle youth crime.
Kensington Palace said on Thursday Harry and his fiancee, who announced their engagement on Monday, will attend a civic welcome at the National Justice Museum, followed by a walkabout where they will greet members of the public.
The Nottingham Contemporary gallery, which is hosting a Terrence Higgins Trust World Aids Day charity fair, is also on the schedule as well as a gathering at Nottingham Academy to meet teachers taking part in the Full Effect programme, which provides early intervention and training to young people at risk from becoming involved in violence and crime.
Harry's communications secretary Jason Knauf said the prince is "looking forward to introducing Ms Markle to a community that has become very special to him."
The couple, who will be married at St George's Chapel, Windsor Castle, next May, are planning to tour the UK in the six months leading up to their wedding so the former actress can get to know her new home. The American plans to become a British citizen.