Prince Harry and Meghan Markle in first official engagement
Hundreds of well-wishers had gathered in Nottingham to greet the couple .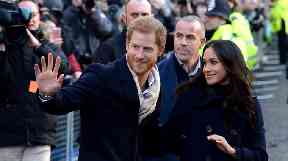 Prince Harry and bride-to-be Meghan Markle began their public life together with a whirlwind of handshakes and smiles as the crowd chanted their names during their first walkabout.
Hundreds of well-wishers had gathered in Nottingham to greet the couple and were not disappointed as the prince and his fiancee appeared determined to meet almost everyone on their first joint engagement.
In scenes reminiscent of the early days of the Duke and Duchess of Cambridge's married life, a sea of camera phones greeted their arrival along with chants of "Harry, Harry" and "Meghan, Meghan".
The American former actress appeared to take the outpouring of affection and interest from the well-wishers in her stride, looking confident as she greeted the crowds with a smile and handshake.
Harry chose Nottingham, a city and its people who are close to his heart, as the place to introduce his bride-to-be to the UK.
During the walkabout, which lasted just over 20 minutes, Ms Markle was wrapped up against the cold in a long dark blue coat by Mackage, and boots, and was handed armfuls of flowers, chocolates and other gifts.
She was without gloves, so her engagement ring was on display, and carried a handbag - something Kate rarely does.
Avid fan Irene Hardman, who is well-known for handing bags of Haribo sweets to Harry, and first presented his father, the Prince of Wales, with two bags - the other for brother William - 20 years ago, was a familiar face in the crowd.
The 81-year-old handed Ms Markle a goody bag containing fridge magnets and other gifts.
She said afterwards that the meeting was "very emotional".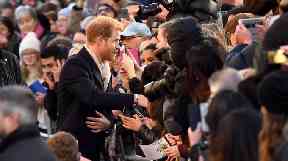 Through tears of joy, she said: "I cried - she's wonderful, and it's fantastic. They're so genuine."
The prince and his fiancee appeared eager to meet the public with Harry at one point asking someone "can I shake your hand?".
He then smiled when a well-wisher shouted, from three or four rows back behind a crash barrier: "How does it feel being a ginger with Meghan?" The former Army officer replied with a grin "It's great, isn't it?", when the man said the word "unbelievable?", Harry responded "unbelievable".
As the walkabout progressed a woman asked the former actress how she felt about being in Nottingham and she replied: "I'm so happy, it's real good to be here".
One of the stranger sights during the meet-and-greet with the public was well-wisher Frank Shelton who had brought his barn owl Kim to meet the couple.
At points during the walkabout, Ms Markle put a reassuring hand on Harry's back and early on she was given a bunch of cream coloured flowers.