Supermoon 2017: When you can see it across the UK
Moon will appear 7% larger as this month's full moon coincides with it orbiting closer to Earth.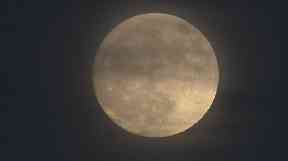 The first and last supermoon of 2017 will appear on Sunday.
The moon will appear 7% larger and 15% brighter than average as this month's full moon coincides with the moon orbiting closer to Earth that usual.
The moon's orbit is not perfectly circular and its distance from Earth varies from around 222,000 miles to more than 250,000 miles over the course of a month.
The supermoon will rise from around 4.15pm GMT in the UK, but will be nearest to Earth shortly before 9am on Monday morning.
But forecasted cloudy skies may be obscure the phenomenon for amateur astronomers, particularly in the west.
December's lunar event is the first of a trio of seemingly bigger moons in what Nasa calls a "supermoon trilogy" over the next two months, with others to come on 1 January and 31 January.