Davis defends Brexit after talks branded 'embarrassment'
A proposed deal between both sides fell apart after the DUP blocked the agreement.
David Davis has face stinging criticism in the House of Commons as he responds to accusations the government's Brexit negotiations had become an "embarrassment" after the talks appeared to break down over the question of Northern Ireland's border.
The Brexit Secretary was responding to an urgent question raised by his Labour counterpart Keir Starmer.
In a thundering exchange, Mr Starmer called for the deadline of 29 March 2019 for the UK to exit the EU to be abandoned, and said the collapse of the talks showed that the "DUP tail is wagging the Tory dog".
Northern Ireland's Democratic Unionist Party has propped up the Conservative government since the general election, but on Monday that alliance appeared to allow the DUP to bring talks between Prime Minister Theresa May and EU Commission President Jean-Claude Juncker to a stalemate.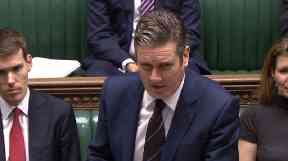 The Shadow Brexit Secretary described the situation as an "embarrassment" and called for the prime minister to put options such as staying in the EU customs union "back on the table".
Mr Davis defended the governments efforts in the talks, insisting that "progress has been made" and saying he believed the first phase of the talks was now close to concluding.
"All parties remain confident of a positive conclusion by the end of the week," he said.
He said the government had no intention of allowing "one part of the United Kingdom" to remain inside the single market and customs union when Britain leaves the EU.
"That is emphatically not something that the UK government is considering," he said.