Grenfell families without permanent homes at Christmas
The deadly blaze, which killed 71 in June, left 208 households in need of rehoming.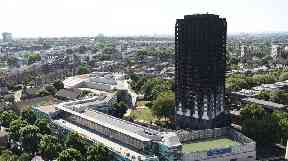 Survivors of the Grenfell Tower fire have called for "urgent action" after it was revealed four out of five families made homeless by the disaster face Christmas without a permanent home.
The deadly blaze, which killed 71 in June, left 208 households in need of rehoming. Six months later, 118 household are in either emergency accommodation or are staying with loved ones, Kensington and Chelsea Council said on Tuesday. Some 48 household have accepted the offer of a permanent house, but have yet to move in.
The local authority had previously said every survivor would be out of emergency rooms by Christmas.
Immediately after the fire, Theresa May said everyone left destitute would be in temporary new homes within three weeks.
"First it was three weeks, then six months now they are saying a year," Shahin Sadafi, chairman of Grenfell United - an elected body set up by survivors and bereaved relatives, said.
"For the survivors and affected families it seems like one broken promise after another. At this rate it could take the council almost two years to re-home people.
"We are talking about people who have been through the traumatic events and have lost so much, stuck in hotel rooms and make-do accommodation. No one can even start to rebuild their lives until they are in a place they can call home.
"It's been six months and we're now just a fortnight away from Christmas. It's not too late to put this right but it needs urgent action now."
Cllr Elizabeth Campbell, leader of Kensington and Chelsea Council, said: "Our priority is to find permanent homes for the 209 households from the Tower and Walk who lost their homes in the fire.
"Forty-two households have so far moved into their new homes. Another 41 have accepted an offer for their permanent new homes.
"Every week, we are seeing more families move out of hotels and into a home.
"All of us sympathise with those who are still living in hotels with their children, especially at Christmas.
"I have always said we can only move at the pace at which victims and survivors feel comfortable - no-one should be rushed into making such an important decision about where they are going to live.
"However, I do accept, for some the pace is too slow.
"But, in the coming months, I expect many more households will move into their new homes. We remain on course, however, to meet our target that everyone from the Tower and Walk will be rehoused by June 2018."
In a public meeting of the scrutiny committee on Tuesday night, the local authority was attacked by former residents.
"You are trying to eat away at us slowly, slowly, slowly, in an attempt to break us up," said Tiago Alves, a 20-year-old tenant of the 13th floor.