Record 400 terror arrests in Britain over 12 months
The Home Office statistics cover the year up to the end of September 2017.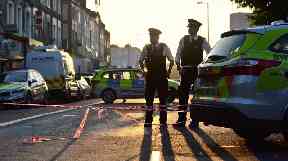 A record 400 terrorism-related arrests were made in Great Britain in the year ending September 2017, new figures show.
The numbers, from the Home Office, were the highest since data began to be collected in 2001 - and a 54 per cent rise compared with the previous 12 months.
The Home Office said the increase was partly due to the large number of arrests made following a string of terrorist attacks on UK soil.
These include:
Westminster attack: 12 arrests 
Manchester: 23 
London Bridge: 21 
Finsbury Park: 1 
Parsons Green: 7
Of the 400 arrests made over the year, 115 - or nine per cent - resulted in a charge.
The figures, revealed in a statistical bulletin, also show that around 53 per cent (213) were released without charge, 15 per cent (60) were released on bail pending further investigation, three per cent (11) faced "alternative action".
One case was still pending, the bulletin added.