Hundreds stranded at airport as winter weather bites
Snow and ice forced dozens of flights to be cancelled or delayed at Stansted.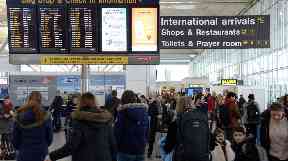 Passengers have voiced their anger after having to spend the night at Stansted Airport after snow and ice forced dozens of Ryanair and easyJet flights to be cancelled or delayed.
Up to 300 passengers were waiting in the terminal on Wednesday evening, while images posted on social media showed people trying to sleep on seats in the arrivals hall in the early hours of Thursday.
One onlooker said there was "tension" in the terminal as frustrated travellers found themselves facing hours of delays "because of a few centimetres of snow".
There were reports of outgoing passengers having to wait for hours to reclaim their luggage after their flights had been axed, with some complaining of a "shocking" lack of communication by officials.
Staff are said to have resorted to using pen and paper to communicate with passengers after a hand-written poster was put up, pleading: "Please be patient."
Sophia Sleigh was on a New Year's Eve trip to Bulgaria after her Ryanair flight "disappeared" from departure screens, leaving her "stranded" at the airport.
She tweeted: "Hundreds of people waiting for baggage from cancelled flights from Stansted Airport! What a shambles @Ryanair I feel sorry for the elderly and those with kids. Incredibly stressful and expensive time to travel. Next available flights not for DAYS apparently..."
Ms Sleigh said she had waited five hours before being told the flight had been cancelled and she would have to return to collect her luggage on Friday.
Airport officials said they would provide beds and blankets for people stuck at the airport, although this was disputed by one passenger.
Lucy Weyinmi tweeted: "Definitely no blankets or food or any support for passengers who have been stuck here for 8 hours plus...."
She added: "8 hours later, still at #Stansted, waiting to get our luggage back so we can do this all again in 10 hours time....Shocking lack of comms or support from airport or Ryanair..."
Meanwhile arrivals were also hit by long delays.
A London Stansted spokeswoman said on Wednesday: "Due to adverse weather conditions today Ryanair and easyjet cancelled a number of flights. There are up to 300 passengers in the terminal waiting to rebook flights.
"Passengers unable to return home are being looked after by Stansted Airport with beds and blankets, and additional help for elderly passengers or those with young children. Free food and drinks have been provided to delayed passengers throughout the day.
"All passengers due to travel are advised to check the status of their flights with their airline before travelling to the airport."