Woman suffers life-changing injuries in acid attack
The 36-year-old was sprayed with a noxious substance in Canary Wharf, London.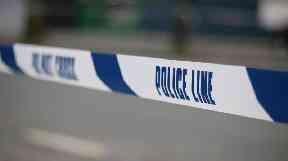 Police in Tower Hamlets have launched an appeal for information after a woman was sprayed with a noxious substance.
The 36-year-old victim was taken to hospital with life-changing burn injuries to her leg and face, police said.
She had been walking alone when she was attacked.
The substance has been tested and is confirmed to have been a strong acid solution, police said.
The incident occurred on Westferry Road in Canary Wharf just before 7pm on Wednesday.
Police are currently reviewing CCTV footage and have appealed for any information that might help identify the suspect.
If you witnessed this incident or have any information that could assist the investigation, please call Tower Hamlets CID on 0208 754 4550 or Crimestoppers anonymously on 0800 555 111.