Fifty million trees planted to create a Northern Forest
The 120-mile stretch, from Liverpool to Hull, will provide habitat for wildlife and boost economy.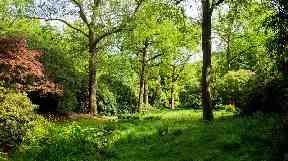 Plans to plant 50 million trees to create a Northern Forest have been boosted by a £5.7m government grant.
The 120-mile stretch, which is set to run along the M62, will provide habitat for wildlife including birds and bats and protect species such as the red squirrel.
The Woodland Trust, in partnership with the Community Forest Trust and the five Community Forests, aims to plant woodland totalling 25,000 hectares (62,000 acres), in a project which is forecast to cost £500m over 25 years.
Currently, just 10% of England is covered by woodland, compared to 31% for France and 37% for Spain. The government has set a 12% coverage goal as part of its growth strategy to meet legally binding targets to cut climate emissions.
The forest is projected to boost the local economy by an estimated £2 billion through tourism, jobs and increasing property value. It is hoped the positive environmental impact of the forest will also help to reduce the economic impact of flooding.
Planting will begin in March at the Woodland Trust's 680-hectare (1,680-acre) Northern Forest flagship site at Smithills, Bolton with a mix of native broadleaf trees such as oaks and conifers including spruce and pine.
Austin Brady, director of conservation at the Woodland Trust, said: "The Northern Forest will accelerate the creation of new woodland and support sustainable management of existing woods right across the area.
"Planting many more trees, woods and forests will deliver a better environment for all - locking up carbon on a large scale, boosting wildlife habitat and greening our towns and cities."