Fox hunting: May abandons pledge on vote to overturn ban
PM abandons manifesto pledge after receiving a 'clear message' from electorate following election.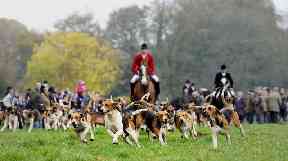 Theresa May will not be giving MPs a vote on whether to overturn the fox hunting ban.
A free vote on the issue had been one of the prime minister's general election manifesto pledges, but she has abandoned the proposal after receiving a "clear message" from the electorate.
The law, introduced by Labour in 2004, bans the use of dogs to hunt foxes and other wild mammals in England and Wales.
Mrs May told BBC's Andrew Marr Show: "As prime minister, my job isn't just about what I think about something, it's actually about looking at what the view of the country is.
"I think there was a clear message about that and that's why I say there won't be a vote on fox hunting during this parliament."
Michael Gove has prioritised animal welfare issues since Mrs May appointed him Environment Secretary after the election.
June's election saw the prime minister loose her Commons majority.
Chris Pitt, of the League Against Cruel Sports, said: "Hunting is a barbaric practice which still sees British wildlife being torn to pieces by packs of hounds.
"It appears that the Government now accepts that cruel sports should no longer be a part of 21st century society so it's good to know they won't try to legalise it again in this Parliament, though they may try again in the next."