Shop worker in coma after attack by 'underage' youths
Three suspects understood to have turned violent after being refused either cigarettes or alcohol.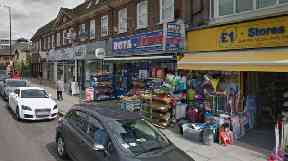 A shop worker is in a critical condition after he was attacked outside the shop he works in after refusing to serve underage youths.
Two members of staff were attacked in the shop by three teenage boys in The Broadway, Mill Hill, north London at around 11.45pm on Saturday.
They are understood to have carried out the attack when staff at the Rota Express store refused to sell them cigarettes and alcohol.
A 49-year-old man was rushed to hospital and has been put on a life support machine. He remains in a critical condition, police said.
The other suffered minor injuries that did not require hospital treatment.
The Rota Express was closed on Sunday afternoon, with a police van parked outside.
Detective Inspector Ian Lott said: "What we know now is that two shop workers have rightly refused to sell items to youths they believed to be underage.
"The three teenage suspects have then made threats before violently attacking both shopkeepers.
"One of the men assaulted is now on a life support machine."
"We understand that a number of people came to his aid and helped to put him in the recovery position."
Detectives are appealing for information to trace the three black male suspects, all believed to be youths, who ran away after the attack.
Anyone with information, including mobile phone video footage during or after the attack, are urged to call police on 020 8358 0200 or Crimestoppers, anonymously, on 0800 555 111.