Non-reclining seats to be introduced by British Airways
Airline reveals details on new fleet of aircraft for short-haul flights.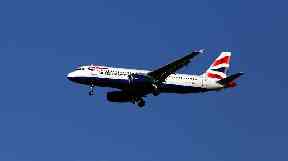 Passengers on short-haul flights with British Airways will not longer be able to recline their seats.
A new fleet of aircraft based at Heathrow will be installed with the non-reclining seats.
The 35 A320neo and A321neo planes, coming into use from this year, will instead have a fixed "gentle recline".
It is a move already adopted by budget airlines, with easyJet and Ryanair already using seats that cannot be adjusted.
As well as new long-haul aircraft, we have 35 brand new short-haul planes arriving over the next five years. We're also completely refurbishing the cabins of all of our existing A320 and A321 aircraft at Heathrow to improve quality and choice for our customers. We are installing at-seat power throughout the aircraft and will soon offer on-board wi-fi.

British Airways spokesperson
The move comes after the airline reduced its in-flight meals offering on its short-haul flights for economy passengers.
It now offers paid-for snacks from Marks & Spencer.
The airline is adding an extra seat into economy class rows on some of its long-haul aircraft from this summer to enable it to offer "even more low fares".
The Gatwick-based Boeing 777s will have 10 seats on each row rather than the current configuration of nine.
This will bring BA into line with airlines including Emirates and Air New Zealand.
The carrier also announced a shake-up of its catering for economy passengers on long-haul flights.
This will include a four-course meal replacing the existing three-course offering, and the introduction of Magnum ice cream and Graze snack boxes.