Donald Trump cancels UK visit to open embassy building
UK Government officials have been told the president has gone cold on the idea.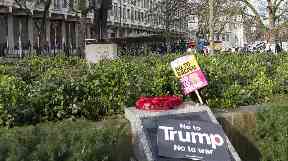 US president Donald Trump has confirmed he has cancelled his trip to London, saying he did not want to cut the ribbon on the new US embassy as he deemed the building's relocation a "bad deal".
He was due to visit London in February for the opening of the new building.
Earlier, the Daily Mail reported UK Government officials were told by their American counterparts that the US president has gone cold on the idea.
Only last week Theresa May said Trump "will be coming to this country."
The prime minister extended the offer of a state visit to Trump when she became the first world leader to meet him in the White House following his inauguration last year.
Reports have suggested Trump was backing away from the visit over fears of mass demonstrations.
May and Trump fell out in November over his retweeting of anti-Muslim videos posted online by the deputy leader of the far-right Britain First group, Jayda Fransen.
At the time, the PM said Trump was "wrong" to retweet the videos, and the US president hit back at May on Twitter by telling her to focus on "destructive radical Islamic terrorism" in the UK, rather than on him.