Morgan tells Prince Charles: 'Trump sends his regards'
The Prince of Wales was given the message from the US President as he visited ITV.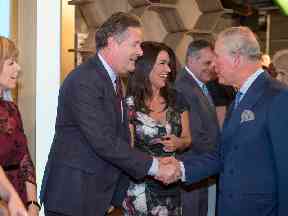 President Trump "sends his regards", the Prince of Wales was told today as his visited the daytime studios of ITV.
Prince Charles and the Duchess of Cornwall were in the This Morning studio as the programme celebrates its 30th anniversary.
On arrival, Prince Charles was introduced to ITV Good Morning Britain presenter Piers Morgan who has just returned from filming Donald Trump's only international interview since he became President.
The Prince asked about the interviewto which Piers Morgan replied: "He sends his regards."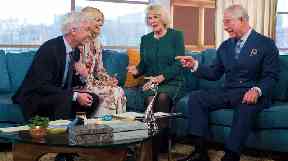 The Prince of Wales has not met the US President but they don't share the same views on big issues such as climate change.
The programme presenters, Philip Schofield and Holly Willoughby chatted to Charles and Camilla on their famous sofa on the banks of the River Thames.
Phil and Holly later told ITV News that they were pleased to welcome more "famous bottoms on our very famous sofa".
This Morning has been a fixture on ITV's daytime schedule since 1988.
The royal couple and presenting couple traded homemade pots of honey. This Morning makes honey from bee hives on the roof of the studios (it's called Willough-bee honey, geddit?).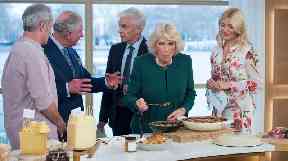 And the programme chef, Phil Vickery, cooked a mutton hot pot for the Prince.
Prince Charles has urged people to cook with mutton rather than lamb to help British british sheep farmers who struggle to sell their older animals.
It was the Duchess, however, who had a taste of the dish.
Charles and Camilla, who are fond of dogs, met the programme's puppy from the charity Dogs for Good, which explores ways that dogs can help people with Alzheimer's and Autism.
And it was Digby who cemented the view of this particular royal reporter that animals and TV studios never mix.
Fascinated by our own microphone, Digby took it in his mouth and chewed it before the Prince of Wales removed it from Digby's mouth and returned it to me - rather soggier than when it left my hands.