Darren Osborne guilty of murder over Finsbury Park attack
The 48-year-old drove into a crowd of worshippers near a mosque on June 19 last year.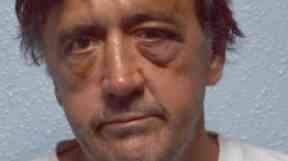 Darren Osborne has been found guilty of murder and attempted murder at Woolwich Crown Court after deliberately ploughing a van into Muslim worshippers in Finsbury Park.
A jury of of eight women and four men took less than an hour to convict the father of four.
ITV News reporter Richard Morgan said that Osborne nodded his head as the verdict was read out.
Makram Ali, 51, was killed and nine others were injured after Osborne, 48, drove into a crowd of people who were helping a man who had become ill just outside a mosque just on the night of June 19 last year.
He is set to be sentenced at 10.30am tomorrow morning.
Prosecutors said that Osborne was trying to kill "as many of the group as possible" when he deliberately drove his van into Muslims gathered at the junction of Seven Sisters Road and Whadcoat Street.
He was held the the scene by members of the public and then arrested.
Police body camera footage captured Osborne claiming that he had lost control of his vehicle.
But in a bizarre defence in court, Cardiff resident Osborne admitted he held far-right views and had wanted to kill Jeremy Corbyn, but insisted he had not been the driver during the attack.
He claimed that an acquaintance he met in the pub and knew only as "Dave" had been at the wheel, while he hid in the footwell of the van.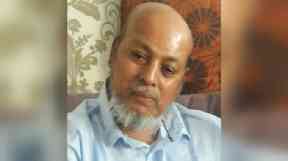 Scotland Yard's head of counterterrorism said that Osborne was set on a "path of radicalisation" within a matter of weeks before carrying out the attack.
His estranged partner has described how he became "obsessed" with Muslims after watching BBC drama Three Girls, based on the stories of victims of the Rochdale sex abuse scandal, in May last year.
The programme was the "first trigger" for his hatred towards the Muslim community, said Dean Haydon, head of Scotland Yard's counter terrorism command,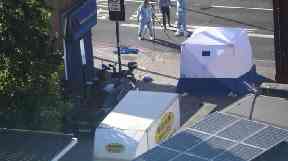 Those feelings which were further fuelled as he accessed extreme material online, said Mr Haydon.
Computer and phone data also showed he had made repeated searches for information on far-right groups and anti-Muslim topics, including an article called "Proof: Muslims celebrated terror attack in London."
A lawyer representing many of the victims said they had suffered a "horrendous" ordeal as a result of having to face Osborne in court to give evidence.
Dushal Mehta, a lawyer at Fieldfisher, said they were still trying to secure insurance payouts to help cover their care for serious physical and mental injuries from the attack.
"Several of our clients have been left severely physically and mentally injured, affecting their whole lives," he said.
"Some have lost their jobs because of those injuries and have been unable to look after their wives and children as they would want."
Speaking after the verdict, the CPS said it prosecuted the case as a terrorist offence because Osborne's actions were intended to advance a political purpose.
Sue Hemming, from the CPS said the attack was motivated by "his hatred of Muslims".
"We have been clear throughout that this was a terrorist attack, and he must now face the consequences of his actions," she said.
The prosecution will ask the court to take account of the fact that this was a terrorist act when he is sentenced.
Download: The STV News app is Scotland's favourite and is available for iPhone from the App store and for Android from Google Play. Download it today and continue to enjoy STV News wherever you are.