Trinity Mirror in deal to buy Daily and Sunday Express
Publisher has struck a £126.7m deal to buy a string of titles from Richard Desmond.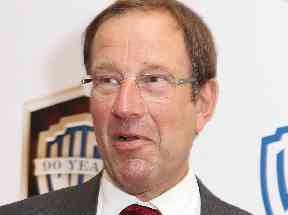 The publisher of the Daily Mirror newspaper has struck a £126.7 million deal to buy a string of titles from Richard Desmond's media empire, including the Daily Express, the Daily Star and OK! magazine.
The purchase will mark the end of Mr Desmond's 18 years as a UK newspaper owner.
Trinity Mirror will pay an initial £47.7 million to Northern & Shell for the publishing rights, followed by £59 million between 2020 and 2023 and a further £20 million in shares to the privately-owned firm.
The move will bring together politically left-leaning titles like the Sunday Mirror, with more right-wing publications such as the Sunday Express.
Trinity Mirror chief executive Simon Fox has ruled out change in editorial tone across the major titles, but said it would spark £20 million a year in cost savings which will lead to job losses.
Mr Fox said: "The titles have separate editors and they know their readers best and have full control over the content - that will not change.
"The Mirror won't become right wing and the Express won't be turning left wing, that would be absolutely ridiculous for us to do that. "
As part of the deal, Trinity Mirror will seize control of Daily Star Sunday, celebrity magazines New! and Star, and a 50% slice of the Irish Daily Star.
Mr Fox said a chunk of the cost savings would come from sharing stories across titles, with the same sport and features content being used in both the Daily Mirror and the Daily Express.
However, he said it would be "entirely inappropriate" to take the same approach with the newspapers' political teams.
Focusing on cost savings, he said: "There will changes to both businesses over time and what we will do, as we did when we brought Local World, is to look to remove duplication.
He added: "There will be consequences for a number of jobs, but it is far too early to work out exactly how many."
He said the changes would hit the "production side and potentially the creation side", but stressed that both organisations would have "bigger teams" going forward.
Mr Desmond, chairman of Northern & Shell, branded the deal a "transformational transaction".
He said: "[It is] a logical and natural next step in the evolution and consolidation of the media sector and will create a larger and stronger platform serving all stakeholders.
"In Trinity Mirror we have a great partner, who will be an excellent steward of the business going forward, and I am delighted to be able to retain an ongoing interest in the combined group."