Children blamed for petrol bomb attacks in Londonderry
Bricks and bottles were also used against police and homes in the incident.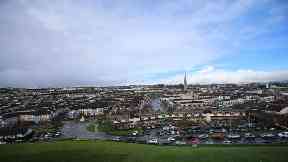 Children have attacked police officers and homes with petrol bombs and other missiles in Londonderry.
The violent attacks took place at the Lecky Road in the Bogside of the city.
PSNI said that children assaulted officers and attacked property with petrol bombs, bricks and bottles.
In a Facebook post, police said: "The area's best avoided as the throwing is indiscriminate."
Mark H Durkan, SDLP MLA for Foyle posted on Twitter: "Three petrol bombs were thrown into the Fountain estate earlier.
"This moronic behaviour puts lives at risk and those responsible should not be on our streets."