Parents and child in buggy survive London Underground fall
Parents and their child were able to move into a pit under the track and train passed safely over.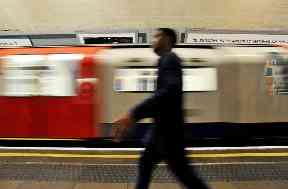 A family of three has "amazingly" survived after a mother and child fell into the path of an oncoming Tube train.
British Transport Police (BTP) said it appeared the woman was walking along the platform at Baker Street Underground Station, pushing her child in a buggy, while looking up at the indicator board just before 10.15pm on Friday.
Officers said the woman did not realise how near she was to the edge of the platform and accidentally pushed the buggy wheels over it.
She, the buggy and the child fell on to the track and the father jumped down to help them, police said.
BTP said: "When they saw a train coming, all three were extremely fortunate in being able to move into a pit under the track and the train passed safely over the top of them.
"Amazingly none of them were seriously hurt, but as a precaution they were taken to hospital for check-ups."