Urban Fairytale Theatre - New, ambitious and with Glasgow at its heart
Find out about one of the city's new theatre groups and its hopes for the future.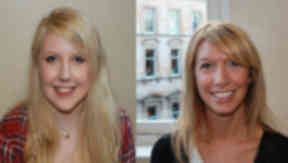 The Urban Fairytale Theatre company is an ambitious group of people.
Following an open audition process earlier this month, 12 actors and actresses joined co-directors Louise Torrance and Lesley Eadie in the new group.
First rehearsals at the Space Studios in Buchanan Street may only have been held on Monday, but Louise is already plotting a bright future for the new company.
She told STV: "Lesley and I have been working as teachers at the Helen O'Grady drama academy. We both love everything to do with Glasgow and everything to do with the arts so we decided together, instead of working for other people, to do our own thing.
"We want to build the company into something that will hopefully be recognised in Glasgow as a theatre group.
"It will be a non-profit company at the start. We are hoping to go down the road of an arts grant, to eventually make money, pay the actors and make this a full-time job for all of us.
"We want to see how the company grows, but at the start we are hoping to do more Scottish pieces, life in Glasgow - the downside of the city as well as the upside. Serious original pieces, as well as a touch of comedy."
Urban Fairytale hope to perform at two shows a year, the first in October. Actors have different levels of experience, with many having studied at the Royal Conservatoire of Scotland, some who have appeared in movies, and others who have never acted before.
One of those involved is Kirsty May Hamilton, a 22-year-old speech and drama distance learner at Trinity College, London and a HND acting graduate from Inverness College.
In her early teens, Kirsty May appeared as an extra in Harry Potter and the Goblet of Fire, and also on the soap River City.
She said: "For Harry Potter, the casting people came in to my school Kinlochleven. I was on the Hogwarts Express as it went over the Glenfinnan Viaduct. It was good fun.
"I think the Urban Fairytale Theatre Company is such an exciting project. Older and younger actors are coming together and everyone has an equal impact. We are going to get the opportunity to discuss and work on the issues directly impacting Glasgow."
Another actress who is excited about the project is 33-year-old Jody Jameson, who has enjoyed a career on stage and screen including roles in CCBC's Tracy Beaker, Holby City and The Bill.
"I am looking forward to taking part in stage productions again. Starting off, as founding members, is exciting and the whole thing feels very special."