Ex-News of the World editor Andy Coulson held on perjury charges
Coulson, Prime Minister David Cameron's former media adviser, was detained by Strathclyde Police officers in London on Wednesday morning.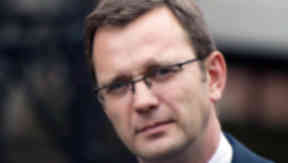 Former News of the World editor Andy Coulson has been detained by Scots police in connection with a perjury inquiry.
Coulson, the ex-Downing Street director of communications, was detained by Strathclyde Police officers in London on Wednesday morning.
He was driven up to Glasgow by police and arrived at Govan Police Station for questioning at around 3.30pm. Seven Strathclyde Police officers travelled to Coulson's home in Dulwich to detain him.
A police spokeswoman said: "Officers acting for Strathclyde Police Operation Rubicon detained a 44-year-old man in London this morning under Section 14 of the Criminal Procedure Scotland Act on suspicion of committing perjury at the High Court in Glasgow.
"It would be inappropriate to comment further in this case."
The allegations relate to the evidence Coulson gave during Tommy Sheridan's perjury trial in 2010.
Speaking outside his home on Wednesday, Sheridan said: "I am limited in what I can say given that we now have a very live investigation. We were led to believe by Mr Coulson and his acolytes at News International during my trial and the initial phone-hacking investigations that the problem was a rogue reporter. It's the equivalent of a bad apple in the barrel.
"Well, I think we all know now that there is no bad apple in the barrel, what there is is a rotten orchard full of bad apples. Fortunately, given the hard work of Operation Rubicon, we now have a start to what will hopefully become criminal charges and hopefully Mr Coulson won't be lonely but he will be joined by colleagues in the future.
"I firmly believe that today marks the first in the journey towards the quashing of my conviction, which was unsafe and unsound."
Sheridan's solicitor, Gordon Dangerfield, added: "We have very strong grounds of appeal and will be lodging a full appeal in due course. Today's developments concern only one of various areas which are relevant to the appeal, and which are being actively pursued by us.
"We are very limited in what we can say because much of the information which we have is still highly confidential at this stage and because we do not want to prejudice the ongoing investigation. We are very much looking forward to being able to present all of the new evidence at a full appeal in due course.
"We believe that when the whole truth comes out, the public will be given an entirely new perspective on what the Tommy Sheridan trial was really about. It is safe to say that many people will have their eyes opened for the first time."
Political reaction
Coulson became editor of the now defunct News International paper in 2003, before he resigned in 2007 over the phone hacking affair. He has previously denied any knowledge of phone hacking at the paper when appearing in front of a parliamentary select committee into the scandal.
After the detention of Coulson, Tom Watson MP reiterated his claim that Sheridan's perjury conviction was "unsound".
He said: "Tommy Sheridan was convicted on an eight to six verdict of a jury in a Scottish court. Mr Sheridan lost his liberty and is still the subject of restrictions on his movement.
"The detention of Andy Coulson further highlights why Mr Sheridan's conviction was unsound. It is now abundantly clear that members of the jury were not in full possession of the facts. If they knew what the police now know, It seems impossible not to conclude that Mr Sheridan would be a free man.
"His conviction should be urgently reviewed. And if the First Minister had any honour, he would launch an immediate inquiry into illicit information techniques practiced by News International's employees in Scotland."
Jim Sheridan MP for Paisley sits on the culture, media and sport select committee that Coulson appeared before in 2009.
Mr Sheridan said on Wednesday: "I welcome the fact that police are reviewing this evidence and continuing an investigation into these serious allegations."
Coulson lasted for less than a year as David Cameron's communications director after the Conservative leader was made prime minister in May 2010. He stood down as the full details of the phone hacking scandal emerged, which eventually led to the Murdoch family closing down one of the biggest selling newspapers in the world.
Earlier this month Coulson appeared in front of the Leveson Inquiry into press standards where he revealed he held £40,000 of shares in News Corporation while working as working as Mr Cameron's chief spin-doctor.
The 44-year-old gave evidence in the perjury trial of Tommy Sheridan in December 2010.
Former Scottish Socialist Party (SSP) leader Sheridan was jailed for three years for lying under oath during his defamation action against the News of the World in 2006. He was freed in January of this year.
Sheridan was awarded £200,000 in damages after winning his defamation case against the newspaper at the Court of Session in Edinburgh, but never received any of the money and later ended up in the dock facing a trial for perjury.
He unsuccessfully appealed the verdict, but claimed publicly that he would clear his name following the conviction.
In response to the police action, SSP leader Colin Fox said: "It is time Tommy Sheridan stopped shamelessly milking the public anger about the deplorable actions of the Murdoch press and started telling the truth that he lied in his libel case, was found guilty of perjury. Regardless of the outcome of the Coulson enquiries that remains the case."