Thousands expected at Orange walks in Glasgow over Queen's Jubilee weekend
The council has only receive eight applications for road closures for jubilee street parties.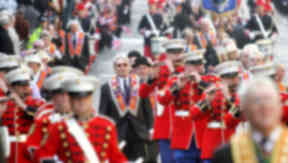 Thousands are expected to take part in Orange walks through Glasgow city centre to mark the Queen's Diamond Jubilee.
Over the course of the weekend 22 marches by the Orange Order will be held across the city, with a number converging on the Evangelical Church in Cathedral Square on Sunday.
In comparison, Glasgow City Council has received eight applications for street parties in the city to commemorate the Queen's 60th year on the throne, many of which are also part of the order's celebrations.
STV News has created an interactive map detailing the routes of the various walks scheduled to be held over the jubilee weekend in Glasgow and also the locations of all the street parties which Glasgow City Council has approved.
The red lines on the map represent the routes and the blue markers represent the start and end routes of the marches. The yellow markers show the locations of the street parties.

View Orange March Map in a larger map
The map may not display on all platforms.
On Saturday morning two parades, with an estimated total of 1350 participants, will be held by different Orange marching bands in the Govan and Drumchapel areas.
This will be followed by around 20 marches on Sunday, which will see around 1800 take part and will focus on a main parade that begins at 2.15pm with the routes leading to the Evangelical Church for a service.
Several bands are holding marches in the morning prior to the main parade, while some are also holding ones in parts of the city at around 5pm, once the main walk has finished.
The council has granted applications for eight road closures for jubilee street parties between Saturday and Monday, with events scheduled for Govan, Bridgeton, King's Park, Springburn, Pollokshaws, Kelvindale and Possilpark.
Under terms of an agreement with Strathclyde Police, the Orange Order now provides and covers the cost of stewarding its events.