Council 'orders nine-year-old girl to stop school meals blog'
Martha Payne earned worldwide acclaim after she began posting her school dinners online.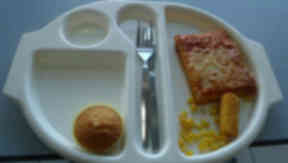 The father of a nine-year-old girl who turned her school meals into an internet sensation says she has been banned from posting any more images.
Martha Payne has notched up more than two million hits and raised over £2000 for charity since she started the NeverSeconds blog six weeks ago.
The pictures also earned her support from the likes of Jamie Oliver and Nick Nairn and hundreds of outraged replies from visitors who were shocked by the pictures of food served up at her school in Lochgilphead, Argyll.
In a final post on Thursday, Martha said she had been told by her head teacher that she was no longer allowed to take photographs in the school canteen.
Her father Dave said he had contacted Argyll and Bute Council, who confirmed to him that they had banned the photographs.
He wrote: "It is a shame that a blog that today went through 2 million hits, which has inspired debates at home and abroad and raised nearly £2000 for charity, is forced to end."
Third World
In recent weeks Martha had begun posting pictures of meals sent in by readers from around the world of their own school fare and started a fundraising campaign for the Scottish charity Mary's Meals, which feeds children in schools in the Third World.
She wrote: "I will miss sharing and rating my school dinners and I'll miss seeing the dinners you send me too.
"I don't think I will be able to finish raising enough money for a kitchen for Mary's Meals either."
Argyll and Bute Council has hit out at the criticism and claimed it has led to catering staff fearing for their jobs.
A spokesperson said: "Argyll and Bute Council wholly refutes the unwarranted attacks on its schools catering service which culminated in national press headlines which have led catering staff to fear for their jobs.
"The council has directly avoided any criticism of anyone involved in the 'never seconds' blog for obvious reasons despite a strongly held view that the information presented in it misrepresented the options and choices available to pupils however this escalation means we had to act to protect staff from the distress and harm it was causing.
"In particular, the photographic images uploaded appear to only represent a fraction of the choices available to pupils, so a decision has been made by the council to stop photos being taken in the school canteen."
They added: "There have been discussions between senior council staff and Martha's father however, despite an acknowledgement that the media coverage has produced these unwarranted attacks, he intimated that he would continue with the blog.
The council has had no complaints for the last two years about the quality of school meals other than one from the Payne family received on 6 June and there have been no changes to the service on offer since the introduction of the blog."
Writing on Twitter on Thursday night, Education Secretary Mike Russell MSP said: "I think it is a daft decision and I shall be telling the Chief Executive that tomorrow."
On Friday he added: "I have made it very clear to the Council Chief Executive that I believe the ban should be lifted immediately."