Scots explorer David Livingstone to be honoured in year long celebration
The Scottish Government will fund events to mark the bicentenary of David Livingstone's birth.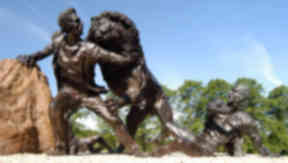 The life of Scottish explorer Dr David Livingstone is set to be celebrated next year, marking the bicentenary of his birth.
Dr Livingstone's achievements – including the abolition of slavery in Malawi – will be honoured with the help of a £250,000 Scottish Government grant towards the celebrations.
Part of the money will be used to highlight Scotland's links with Malawi and to help develop skills to care for shared heritage between the countries.
The David Livingstone Centre in Blantyre will be given £100,000 from the money to run celebration events and National Museums Scotland will receive £143,000 to work with National Museums Malawi on an exhibition and the skills development programme.
Historic Scotland staff will also be given funding to visit Malawi later this year to look at ways of providing training in traditional building skills to help maintain the country's monuments, historic buildings and heritage.
Culture Secretary announced the funding on a visit to the David Livingstone Centre in Blantyre, where she was met by African singers. Ms Hyslop said: "Dr David Livingstone was one of Scotland's greatest explorers.
"Embodying a thirst for education and knowledge combined with inventiveness, enterprise and a capacity for endurance, he made a significant contribution to our understanding of the world.
"2013, the bicentenary of his birth, and our Year of Natural Scotland, is a fantastic opportunity to celebrate his many great achievements.
"It is also an opportunity to build on Dr Livingstone's legacy - the enduring and strong relationship between the peoples of Scotland and Malawi and our commitment to tackling poverty in that country.
"The training programme I have seen today is just one of many examples of the support on offer in Scotland to improve the employability and skills, and therefore life chances of Scottish people.
"Developing skills in both Scotland and Malawi is a fitting tribute to Dr Livingstone and will open up fresh opportunities for employment in both countries."
The National Trust for Scotland's deputy chairman, Julian Birchall said :"The David Livingstone Centre is a remarkable monument to a remarkable man.
"The centre demonstrates how Livingstone's sheer force of personality propelled him from the humblest of circumstances, as endured by most of his fellow Scots, to global prominence in the fight against slavery.
"We at the Trust are honoured to be involved in the international celebrations of this great Scot and welcome the Scottish Government's very generous support."
Lovemore Mazibuko, acting director of Museums of Malawi, added: "The Museums of Malawi is delighted with the news that funding has been secured for its joint project with National Museums Scotland under the "Museums as Agents of Change" project.
"This is a very important project to us as it will help capacitate our members of staff, most of whom have just joined the institution with no relevant experience in the museum field."