Day of celebrations to start new chapter for Cambuslang and Rutherglen
The Community Health Initiative changes to a trust at official ceremony.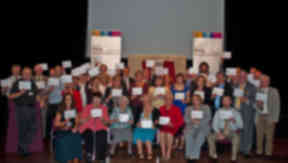 Politicians, board members, staff and volunteers joined together to celebrate the beginning of a new chapter for Cambuslang and Rutherglen's healthiest organisation.
The organisation changed from an initiative to the Healthy n Happy Community Development Trust at a ceremony at Rutherglen Town Hall, with Provost Eileen Logan and board members May Caldwell, Margaret Robinson and Kim Jackson unveiling the new name and logo.
Although changing to a development trust Healthy n Happy will continue to be managed and owned by local people but it will be open to more funding opportunities and aim to generate more income through enterprises.
Former MP Tommy McAvoy,MP Tom Greatrex, MSP James Kelly and local councillors enjoyed a special 10th anniversary lunch ahead of the ceremony for the former Cambuslang and Rutherglen Community Health Initiative.
Rutherglen and Cambuslang MP Mr Greatrex said: "In the two years I have been MP I've had a lot to do with CHI and spent a lot of time with the projects in Cambuslang and Rutherglen. They've got an amazing team of both staff and volunteers.
"I've spent time with the different groups like the baby clubs and radio station and there's so many people involved, it's about taking it to the next step.
"Given the level of commitment and trust in the community it's created over the last ten years it's a good start to the new era."
The Cambuslang and Rutherglen Community Health Initiative was established in 2004 as a result of a merger of the Healthy Living Initiative (HLI) and the Cambuslang and Rutherglen Health and Food Project (CHAF).
The project currently has around 50 sessional workers and more than 100 active volunteers who work across the organisation's six themes of volunteering; communication, information and dialogue; fitness and exercise; diet and healthy eating; substance misuse and mental and emotional health and well-being.
Happy n Healthy's chief executive Brendan Rooney said: "Moving to a trust is very significant as it's the start of the next ten years and we are very excited and optimistic about the future.
"As a trust it will mean there will be more linking together of the different strands of the organisation, we think it's going to allow us to do a lot more of the type of work we're doing.
"We're hoping there will be more funding and different types of investment available to us but we're still a health initiative as well."
The trust's wide range of classes and facilities were on show to the public throughout the afternoon. Residents were invited to try out recording with Camglen Radio, learn about the alcohol and substance misuse courses on offer and go for a cycle on the Healthy n Happy Shake Machine at the town hall.
Details of the fruit barra, Parent Cafe and mental health workshops were also available.
One of the locals to benefit from volunteering for the project has been Don Perry.
The Cambuslang man has been part of the initiative for the past two years, he said: "My doctor referred me to a course at the CHI which was to help reduce stress. It was a really good course and from that they asked if I'd like to go a mental health awareness course and then a mental health first aid course, anybody from Rutherglen and Cambuslang can take it up.
"Through that I became involved with the Voluntary Inclusion Project which is tackling the stigma of mental health and that's led to radio presenting and a supervisor course. For me volunteering has been very worthwhile, it's probably one of the best things I've ever done.
"I get so much from it in many, many ways. I was in a low place suffering from clinical depression when I first started there but the project has helped me a lot. I'm now on the committee for the new website and it's quite exciting that I've been given the responsibility of keeping it updated.
"Changing to a trust is a big step going forward but it's worthwhile."
The day of celebrations culminated in a ceilidh with more than 100 volunteers invited along as a thanks for their help working with the organisation over the last ten years.
Camglen Radio and the new Camglen Rock and Pop choir provided the evening's entertainment.
Board member and former local councillor May Caldwell said it had been a fantastic ten years working with the organisation.
She said: "Thinking back to the beginning I'm so proud of what we've achieved and to see and hear the volunteers and how they've came on has been incredible. It's grown and grown as well.
"It's been a challenging financial climate and we've had to change with the times, the bottom line is we've always been here for the community.
"I didn't think we'd get as far as we have. It's humbling when we so many volunteers and how much they do."