Glasgow Airport attack: Timeline of a terrorist act
Kafeel Ahmed and Bilal Abdulla spent months preparing a plan which could have left hundreds dead.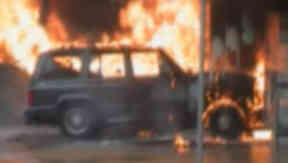 Five years on from the terrorist attack on Glasgow Airport, STV looks back at the event
Roots of the plot
SEPTEMBER, 2004: Kafeel Ahmed arrives in Cambridge to begin his PhD studies at Anglia Ruskin University. Bilal Abdulla also arrives in Cambridge to study after completing his degree at the University of Baghdad.
JANUARY, 2005: Mohammad Asha arrives in the UK for a short research posting at Addenbrooke's hospital, Cambridge. During this time, he is introduced to Abdulla and Ahmed at the city's Abu Bakr Mosque.
Preparing for the attack
APRIL 17, 2007: Abdulla views three-bedroom, semi-detached house in Houston, near Glasgow, which will become the bomb factory. He later moves into the property, which is just eight miles from his work at Paisley's Royal Alexandra Hospital.
MAY 19/20: Abdulla and Ahmed travel down to London in a rented Vauxhall Astra on a reconnaissance mission. They stay at the Newham Hotel in Forest Gate, east London. They are caught on CCTV late at night studying intended targets in the city.
JUNE 2: Ahmed buys a green Mercedes, later used outside the Tiger Tiger nightclub, for £700.
JUNE 6: Ahmed buys a blue Mercedes for £900.
JUNE 16: Ahmed and Abdulla buy a second-hand metallic green Jeep Cherokee for £600.
JUNE 22: Abdulla and Ahmed visit B&Q in Warrington to buy a gas canister, and another B&Q in Preston to purchase a second canister.
JUNE 23: Abdulla is caught on CCTV at a Shell garage in Paisley and a BP in Pollokshaws Road, Glasgow, filling jerry cans with petrol.
JUNE 27: Final bomb purchases are made. Butane canisters, a volt metre and tyre weld are bought in Clydebank, walkie talkie radios in Glasgow's Great Western Road, and propane gas cylinders and gloves bought from B&Q in Strathkelvin Retail Park, Glasgow.
JUNE 28: Abdulla and Ahmed prepare the two Mercedes car bombs in the garage of the Houston property. Later, the cars begin their journey to London, both containing home-made detonators wired to mobile phones.
The first day of terror
JUNE 29:
1.18am: Ahmed parks the blue Mercedes in a bus stop in Cockspur Street.
1.24am: Abdulla parks in Haymarket, outside the main entrance to Tiger Tiger.
1.40am: Club staff and paramedics at the scene on an unconnected matter raise the alarm outside the club.
1.43am: The first emergency services arrive. The bomb is made safe by 3.30am
1.53am and 1.56am: Calls are made to the telephone detonators in both Mercedes, but the bombs fail to explode.
2.30am: A traffic warden issues a ticket for the blue Mercedes parked in a bus stop in Cockspur Street. The car is towed to the Park Lane car pound and is later traced by police, where it is disarmed.
5.52pm: Ahmed and Abdulla meet Asha. Asha is caught on camera leaving the accident and emergency department of the University of North Staffordshire hospital to meet the pair, who have arrived in Stoke after catching a train from Stansted Airport. After a short meeting, the two bombers head to Glasgow and Asha returns to work. He goes online to the BBC website and reads a story about the London attacks.
Glasgow under attack
JUNE 30:
1.34am: Ahmed uploads his will and suicide note into his email account.
5.29am: Abdulla sends an email to his consultant at the Royal Alexandra Hospital, purporting to be from his sister, in which he claims to have been severely injured while on holiday and is unlikely to walk again.
8am: The two men, having packed the Jeep with fuel and shrapnel, drive north from Houston to Loch Lomond where they remain until 2pm. During this time, Ahmed sends a text message to his brother Sabeel Ahmed explaining how to access his will.
3.04pm: CCTV cameras at Glasgow airport capture the Jeep arriving.
3.13pm: Ahmed smashes the Jeep into the entrance doors of the terminal, impaling the front of the vehicle on a metal post. He tries desperately to free the Jeep but is unable to do so. Abdulla throws petrol bombs from the passenger seats, before Ahmed douses himself in petrol and sets it alight. The two men are tackled by members of the public and police officers. They are eventually detained and arrested.
9pm: Asha is arrested as he drives with his wife and son north up the M6. He has been under surveillance since around 11am, and has been watched dumping documents linking him to Abdulla in bins at two supermarkets in Stoke. Police then begin to search his home.
The police investigation begins
JULY 1: Police begin searches of Abdulla's home in Houston. There is so much material it takes 14 days to complete.
JULY 6: Abdulla is charged with conspiracy to cause explosions.
JULY 14: Sabeel Ahmed is charged having information which he 'knew or believed may be of material assistance in preventing the commission by another of an act of terrorism'.
JULY 19: Asha is charged with conspiracy to cause explosions.
AUGUST 2: Ahmed dies from severe burns. He has been in the Royal Alexandra Hospital and the Glasgow Royal Infirmary for five weeks.
Justice served
APRIL 11, 2008: Sabeel Ahmed is jailed for 18 months at the Old Bailey for failing to disclose information. He followed his brother's instructions and refused to inform police about what he knew of the plot, details of which had been emailed to him. When he was released, he was deported to India.
OCTOBER 9: The Glasgow Airport terror attack trial opens at Woolwich Crown Court. Abdulla and Asha stand accused of being part of a small terrorist cell working in Britain. Abdulla admits planning "fire devices" in London's West End but denies being part of the Glasgow airport incident. Abdulla and Asha deny conspiracy to murder and conspiracy to cause explosions like to endanger life.
DECEMBER 16: Abdulla is convicted of conspiracy to murder and to cause explosions. Asha is acquitted of the same charges.
DECEMBER 17: Abdulla is jailed for at least 32 years by Mr Justice Mackay.