Artist explains plastic war tributes strapped on 'Squinty' bridge
Over 400 plastic crosses with names of fallen soldiers have been attached to the railings.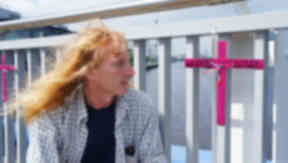 If you have walked, cycled or driven across the 'Squinty' bridge in Glasgow this week you may have noticed something a little different.
Since Sunday, 419 small plastic crosses with names and foreign locations on them have been strapped to the railings. Names like Sean Binnie and Liam Tasker are amongst them.
The tributes are for every British soldier who has died in the war in Afghanistan.
The artist responsible for this act returned to the Clyde Arc on Thursday to add another three, following the deaths this week in Helmand province of soldiers Craig Roderick, Apete Tuisovurua and Leonard Thomas.
Brian Carey is a 51-year-old self taught artist who lives in Auchinleck, Ayrshire. Contrary to newspaper reports earlier this year after a similar art statement in Kelvingrove Park, he is not related to Lance Corporal Stephen Monkhouse, the Greenock soldier who died in Afghanistan in 2010.
"I have put this out for the people to show a bit of respect," he said. "I don't think people quite understand what is happening to the troops. It is if they think the boys are just out there in Afghanistan on a training exercise. A real war is taking place.
"I'm trying to remind them, and hope they will give more support to families and relatives of the victims. Their lives will never be the same again."
Brian was motivated to mark the sacrifice of the troops following the deaths in March last year of Lance Corporal Tasker, from Fife, and his record-breaking sniffer dog Theo. A few months later, while walking his own dog, the animal lover was inspired to create the crosses and has worked on the project for the past twelve months.
The tributes, called 422 man/woman down which changes with the death count, are made of biodegradable plastic and are several different colours. Purple crosses are in memory of the ten most recent dead - representing the ten years of the war - while blue crosses are for those who died in incidents of friendly fire.
Pink crosses represent female members of the armed forces who were killed, while white plastic is for the dogs. The rest are khaki green.
Each of the tributes has a red, white and blue ribbon and has the solder's name, location of death and how they were killed written on it.
It is difficult to work out Brian's own thinking behind Afghanistan. He describes himself on his blog as "a failed contemporary artist that hasn't thrown in the towel just yet".
There is no doubt he supports the troops and is proud of the British forces. Nothing demonstrated this more than the large Union flag he attached to the bridge before our interview started, and which two police officers asked him to take down during our conversation.
He said: "War affects more people than just the troops and civilians in the country. In affects everybody or it should. Another artist said all I am trying to do is bring attention to myself. I didn't like that.
"I'm trying to draw attention to the troops. The work is about the death count. I don't want the credit. It is not why I am doing it.
"I don't know if I am for the war, against the war. Our troops are fighting for freedom, for a better world. It is more about remembrance.
"It is more a feeling of caring for the people who have been left behind, and also the civilians who have been killed around the world, not just Afghanistan. It could be anti-war. I would be happy enough for people to interpret the work that way."
Brian's Clyde Arc tribute is not the first time he has targeted high profile locations. In the past year, he has set up his plastic crosses in Kelvingrove Park up to the Glasgow School of Art, the city's war memorial, the Gallery of Modern Art, the steps at the Royal Concert Hall, the Royal Academy in Edinburgh, the Howford bridge in Mauchline and on the grounds of the Dumfries estate.
The artist said the crosses are no longer at any of the locations apart from the A76 Mauchline site, and he would take the 'Squinty' tribute down if he was asked to do so.
Some of the crosses on the Glasgow bridge, like other locations, have been vandalised. The artist accepts this will happen, as it is an "unpopular war".
He added: "I'm trying to connect with people's feelings. I have had great feedback from some serving soldiers. Some have been speechless after seeing names they recognise.
"I spoke to a young soldier in Kelvingrove Park. He was out with his family and was due to return to Afghanistan. He was deeply moved, wanted his picture with the crosses, and wanted my autograph. I told him to watch what he was doing over there as I didn't want him to end up as a name in my artwork.
"An elderly couple in the park though hurled abuse from the word go. They asked if I had permission, I said no. They asked if I had any relatives serving in the forces, I told them I had a nephew who had done a tour of Afghanistan.
"They flew into a rage, cursed, swore, saying they were not heroes, what they were doing out there was atrocious. They said all I was doing was spreading war propaganda."
Asking for permission from local authorities or from the buildings he uses is something Brian does not do on every occasion. For the Clyde Arc, he insists he asked the council if he could put them up in time for Armed Forces Day last weekend but had no response.
Brian said he hasn't spoken much to his nephew, who is in the RAF, about his work or anything else for the past two years so has no idea what his relative thinks of it. He is, though, supported in his war tributes by other members of his family.
His teenage daughter Carmine, her friend Lisa and boyfriend Craig have all helped Brian attach the tributes to the bridge this week along with his wife Sheena. The family's black labrador Kobi has also been on hand.
It took Brian six days to create the crosses from scratch and it took the five of them three hours to attach the tributes.
Brian has calendars of some of his favourites pictures of his art, and has sent samples of the work to a range of people and organisations including TV personality Lorraine Kelly, the charity Help for Heroes, the Tate art gallery and the Mayor of Royal Wootton Basset, the village famous for repatriations of fallen soldiers in recent years.
Many have thanked him or acknowledged the gesture, others have simply ignored him.
So what next for an artist who has delighted some, and insulted others? Will there be more tributes in the future?
"I just keep getting different ideas of where I would like the work to go, where I think it would be impressive. It is an ongoing thing until the war ends and the troops come home. After that, who knows."