Harland Way opens with fabulous family fun day
Locals celebrate a new play park, artwork and walkway for Govan.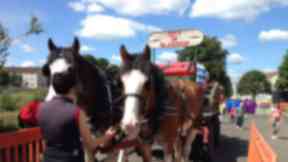 Govan locals celebrated the unveiling of a new walkway, community art work and a brand new play park with a fantastic family fun day at The Big Launch.
The Big Launch saw the opening of Harland Way, the re-vamped riverside walkway named after former Govan shipyard Harland and Wolff.
Govan's rich history was celebrated in speeches by Deputy First Minister Nicola Sturgeon and resident artist Matt Baker, who unveiled three pieces of art work along Govan water front.
See our gallery of photographs from the day.
The collection of art work is inspired and influenced by the community within which it is set, and two pieces are crafted from recycled timber and granite sourced locally in Govan.
"I was so overwhelmed with the layers of history and culture here. Being able to talk that through with people so they could start shouting about how proud they are has been great," said Matt of his eighteen month artist's residency in Govan.
"There was so much richness here, it was a dawdle to give something back. People respond well to seeing people putting their heart and soul into things, people want to see art that's made by a human being and not mass produced."
Local children planted flags to celebrate the opening of their new walkway and the unveiling of Matt's art work. A petting zoo and inflatable play park kept kids amused all day, and the sun even made a special guest appearance.