Ally McCoist says he 'will never accept' Rangers being stripped of titles
The Ibrox manager has attacked an SFA statement on the club's acceptance of sanctions.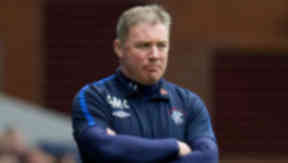 Rangers manager Ally McCoist has insisted he will not accept Rangers being stripped of any titles as punishment for its financial conduct.
The Ibrox boss hit out after the Scottish Football Association (SFA) issued a statement clarifying Sevco Scotland Ltd's acceptance of a registration embargo as a condition of gaining SFA membership.
Malcolm Murray, chairman of the newco club, described the governing body's statement as "premature" and said Rangers was accepting some sanctions "under duress".
Speaking on Saturday morning, Mr McCoist added: "I am extremely disappointed that the SFA chose to release a statement last night when the Club has not actually signed any agreement. The Club is trying to get to a position where we can plan for the season, which starts in only 8 days.
"We have had meetings with the SFA all week to discuss membership but I had to leave the final meeting as I could not support the sanctions they were trying to impose.
"The decision has already been taken to place Rangers in Division 3 and we have accepted that, along with many more punishments. However, operating with an embargo on an already depleted first team squad - even with a window to sign players - will make the task ahead an extremely difficult one.
"It is important to remember we have already had a 10 point deduction from the SPL, lost our Champions League place for finishing second last season, had a £160,000 fine, been refused entry to the SPL, been relegated to Division 3 and lost the majority of our first team squad – yet still the governing body has chosen to impose further sanctions."
He added that he would resist any attempt to strip Rangers of its cup or league titles as a further sanction.
He said: "I can also assure every Rangers fan I will not be accepting any talk of stripping the Club of titles. That is something we will never accept and everyone at the Club shares this view."
Mr McCoist said that while he opposed the registration embargo, he accepted that management had been forced to make a business decision or face the club being unable to play at all.
He explained: "The transfer ban has been strongly resisted by me, the management team, the Directors and supporters. Indeed The Rangers Fans Fighting Fund appointed a QC to defend the Club's position as the sanction was not available to the Appellate Tribunal.
"From a business point of view I can understand the position the Board has been placed in and ultimately they felt they had no choice but to accept some sanctions in order to move forward – as one of the alternatives could have led to the extinction of the Club.
"The Rangers fans have been magnificent throughout this entire process and on behalf of everyone at the Club I would like to thank them once again for their loyalty."