Man who murdered friend and dumped body in landfill site is jailed
Garry Smith attacked and killed landscape gardener Graeme Ferry in April 2011.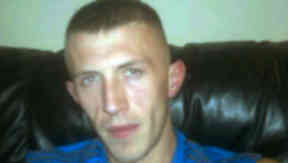 A man has been sentenced to 18 years in prison for murdering his friend and dumping his body in a landfill site.
Garry Smith attacked and killed landscape gardener Graeme Ferry at a location between John Bowman Gardens in Bellshill and Kirk O' Shotts, North Lanarkshire in April 2011.
Days later he buried Mr Ferry's body in a landfill site and covered the grave with a block of concrete.
For five months he pretended Mr Ferry was still alive and even phoned his mother asking if there was any news.
The body of Mr Ferry was discovered in September 2011 in a field near to Westerfield Farm, Chapelknowe Road in Motherwell.
At the High Court in Glasgow on Wednesday, Garry Smith, from Bellshill, was sentenced to 18 years.
He previously pleaded guilty to the murder.
Andrew Shilliday, also from Bellshill, was also sentenced to five years for attempting to defeat the ends of justice. He also pleaded guilty.
Lady Stacey imposed a life sentence and told him the minimum jail-term would have been 20 years, but for the guilty plea. The judge told him: "You attacked Graeme Ferry by punching and kicking him. You knocked him down and killed him.
"You moved his body and buried him. His family were put through the anguish that he might be a missing person, who may come home.
"It was only through painstaking police work that you admitted your part."
The court heard Smith, Shilliday, Mr Ferry and another man had been celebrating the killer's birthday at a property in John Bowman Gardens, Bellshill, last April 2.
The group eventually left in a car before Smith and Mr Ferry got out and had a fight. Smith attacked the gardener before walking back to find him face down in a puddle lying dead.
He initially hid the body before returning to the area a couple of days later with another man to move the corpse using Shilliday's car.
The court was told Mr Ferry was dumped naked in a makeshift grave at a landfill site.Bricks and slates were positioned around his head and a large concrete slab was placed over his face.
Prosecutor Iain McSporran told how Mr Ferry's mother Janette "became very concerned" by April 4 that her son had not come and had not been in touch. Police later began a missing person inquiry before Smith made contact with the victim's mum asking had she seen him.
Mr McSporran added: "Mr Ferry's mother feels particularly bitter and aggrieved that a man thought to be a friend of her son would play so cruel a trick on her."
Smith eventually confessed to what he had done telling police last September: "It is all down to me. I will tell you everything. I'll show you where the body is."
John Dunn, procurator fiscal for the West of Scotland, said: "Graeme Ferry was violently murdered by Garry Smith who was then assisted by Andrew Shilliday in a futile attempt to cover up this heinous act.
"Taking the life of another is the most serious crime and must therefore come with the most serious consequences as today's sentences demonstrate.
"I would like to express my sincere condolences to Mr Ferry's family and friends, and especially to his mother. I cannot imagine the mental anguish she has suffered because of the actions of these two men.
"The conviction and sentencing of Garry Smith and Andrew Shilliday demonstrates the commitment of the Crown to ensure that those who are guilty of murder and other serious offences will not escape justice."