Story of schoolgirl asylum seeker campaigners takes to the stage
Seven girls hit the headlines in 2005 battling against dawn raids. Now a musical has been written about them.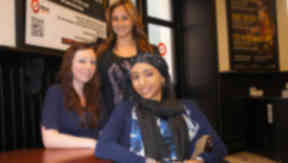 It's punchy, pithy, emotional and full of guts and attitude.
As a musical, the Glasgow Girls captures the very essence of the boisterous gang of bold Drumchapel teenagers who took on the world and won when they campaigned for the end of the dawn raids in 2005.
It was a story that inspired many – when Roza Salih from Kurdistan, Amal Azzudin from Somalia and Ewelina Siwak from Poland campaigned alongside Emma Clifford, Toni Henderson and Jennifer McCarron from Drumchapel against the detention of their schoolfriend Agnesa Murselaj by the UK Border Agency.
The Murselaj family had come to Scotland to flee persecution in Kosovo, and the schoolgirls, aged 15 and 16, took their high profile battle as far as Jack McConnell and even had two BBC documentaries made about them.
Eventually Agnesa was returned but the girls continued to fight against the removal of other school friends and their neighbours' children to detention centres during the notorious dawn raids at the Kingsway flats in Scotstoun.
Road Kill director Cora Bissett says she just had to take the girls' story to the stage, "I always knew about the Glasgow Girls", she explains.
"It was always on my radar. I heard about the dawn raids in 2005 and was aware of the campaign.
"I'm always interested in stories of injustice, particularly to women and in 2010 when I had finished doing Roadkill I thought what next?
"I went to the Scottish Refugee Council, they said they'd had an idea and by that time, so had I."
Both Cora and the refugee council had been considering the tale of the schoolchildren who had become known as the Glasgow Girls and the rest, as they say is history.
Getting to know the girls over many months, Cora finally worked up a plan for the production and shocked herself by deciding it was a tale best told by musical.
"I thought: 'I don't want this to be one of those tiny little plays that sits and discusses in an intense manner the complexities of the immigration system'", she says.
"You essentially have a story of seven young girls fighting the system, fighting for their lives and discovering their voice - that's the big celebratory bit.
"And the other bit is that this is a really complex political situation that we have to try to sandwich into the play somehow.
"But to make that palatable to make it a good night out and to make people come away with a feeling of 'I care about that' a musical was the best way to do it."
Although she admits she is 'not a musical lover or a jazz hands kind of person at all', Cora got to work with urban songwriter MC Soom T in order to give the musical an authenticity and a 'street' feel.
"Music lifts you - it gets to the motions directly", she explains, "It takes you higher than the spoken word.
"Songs soar, songs are superpowers.
"We make the musical our style - we're not following the rules. The rulebook has gone out the window.
"We are making our own Scottish musical…whatever that is."
With song writers from Scotland, Glasgow Girls is edgy, modern, contemporary and multicultural.
Unrestrained and with elbow jutting and hip shaking attitude, the actresses dance around the stage at a special preview for Refugee Week in the Tron theatre in Glasgow.
"We are the Glasgow Girls, together we are strong…We are protectors of our neighbours child," the group holler to a rap beat.
In the audience are Emma Clifford and Agnesa Murselaj.
"I think Cora has done a great job and she's tried her best to make it exactly the way it was," says Agnesa.
"It's weird. When we first we went to London [to see the development] we had no clue who the actresses were but they ran to us, gave us a hug, it was like they knew us because they saw the documentary.
"We thought 'this is so me', or 'this is so Emma'.
Watching the performance was a poignant experience for all of the group, but particularly Agnesa who waited in a detention centre whilst her friends fought hard to save her.
"It was so emotional, very emotional when we saw them play us," she explains. "When we were waiting outside to meet the actresses, they were singing the Glasgow Girls song and when we got inside we saw there were pictures of us everywhere. It was so emotional when we saw the act.
"I started crying when I saw it."
Emma Clifford, who now works in radio, is still coming to terms with the fact that a musical is being penned about her.
"As Amal put it 'Aye right,' that was my first reaction" she laughs.
"It's surreal. At the time we didn't really have a clue what we were doing, we were just rolling with it. Our main aim was to get Agnesa back and after that we just continued to speak at events and campaign.
"We weren't doing it to be in a musical, that just happened as a consequence. Just like all the other things, the documentary and the awards."
Glasgow Girls opens at the Citizens Theatre on October 31.