Olympics outrage: North Korea angered after enemy's flag flown at Hampden
Women's football team walked out when South Korea's standard was displayed by mistake.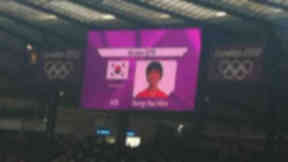 The North Korean women's football team walked out of a game at Hampden after Olympics officials displayed the flag of South Korea.
The offending standard was displayed on a large monitor in the Glasgow stadium ahead of a match between North Korea and Colombia.
When the team's coach spotted the mistake, he refused to bring his side onto the pitch and remained in the dressing room.
The Colombian team, who had been waiting in the players' tunnel, also went back to their own dressing room when it became apparent the match was not going to start on time.
Hampden staff then tried to entice the North Koreans back out by offering to announce the teams again, this time with the correct flag on display. At 8.25pm, the team came back on the pitch. The match, which had been due to begin at 7.45pm, then started at 8.50pm.
Those at the scene say that many supporters left the venue as a result of the late start. When the game eventually got under way, striker Song Hui Kim secured two goals for a full-time score of 2-0 to the North Korean side.
In a statement on Wednesday night, the Olympic organising committee (Locog) said: "Today ahead of the women's football match at Hampden the South Korean flag was shown on a big screen instead of the North Korean flag. Clearly that is a mistake. We will apologise to the team and the national Olympic committee and steps will be taken to ensure no repeat."
It has been reported that the video display which carried the flag had been produced centrally in London; however, a spokeswoman for the Olympics declined to comment on the origins of the production.
North and South Korea were formally established as separate entities in 1948, and the Korean War began in 1950.
North Korea, which is officially known as the Democratic People's Republic of Korea, is a one-party state based in the ideology of Juche-oriented socialism. The regime, headed by Supreme Leader and First Secretary of the Workers' Party of Korea Kim Jong-un, remains locked in a cold war with it neighbour to the south. North Koreans are drilled in contempt for the southern democracy in their politics, education system, and state media.
Only two years ago, North Korean artillery shells killed four people, two from the military and two civilians, on Yeonpyeong Island in South Korea.