Rangers crisis: SFA grant conditional membership ahead of season opener
The membership is conditional on the Ibrox club transferring its SPL member share and accepting sanctions.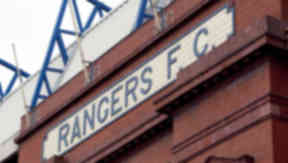 Scotland's football authorities and Rangers' holding company have confirmed a deal that will allow the team to kick off the season on time by giving them conditional SFA membership.
The agreement, reached less than 48 hours before Rangers kick off their Ramsdens Cup tie at Brechin City, follows a stand-off between the club and the SPL, who want to investigate the club's alleged use of dual contracts to pay players.
Sevco have been given a conditional membership of the SFA, allowing the Brechin game to go ahead. Full membership will be granted once Rangers' administrators Duff and Phelps hand over the club's member share of the SPL to Dundee, which is expected to happen next Friday.
Sevco have also accepted all the sanctions imposed on oldco Rangers for bringing the game into disrepute, including a 12-month transfer embargo which will begin on September 1.
The club has also agreed to settle Rangers' outstanding football debts, while the SPL said it had "reserved its position" in respect of the investigation into Employee Benefit Trusts, the issue at the heart of the tax case.
The SPL and SFA also agreed a deal on broadcasting rights which to include Rangers matches in deals with rights holders.
McCoist anger
Rangers manager Ally McCoist lashed out against the deal, saying he had been landed with a "ludicrous situation".
McCoist accused the SPL of pursuing a "hostile" agenda towards Rangers and decried the lack of leadership shown by the other governing bodies.
He said: "48 hours from now we are supposed to start the season with a game at Brechin and, as I sit here today, I don't know exactly what our status in the game is, where our players, that we have, should be registered - and what the future holds for us going into next week.
"It's a ludicrous situation - and I owe it to our fans - to make my views known on it.
"No one is denying that Rangers were badly mismanaged for 10 months. Nor are we disputing that we should be punished for that. We have been. We accept that punishment and want to start putting the past behind us and move forward.
"But that is not being allowed to happen - and I have to ask myself why?"
SFA chief executive Stewart Regan said he was pleased for "the whole of Scottish football" that a deal had been struck allowing Rangers to play.
He said: "This has been a difficult period for Scottish football, but with this agreement now in place, and with the new season upon us, it is essential that we all focus our energies on football once again.
"In the months ahead, the Scottish FA will resume discussions on the subject of league reconstruction. We remain committed to this process in order to re-energise the national game and will work closely with the SPL, SFL and all other relevant affiliated bodies to provide a dynamic product appealing to our supporters."
Broadcast discussions
SPL chief executive Neil Doncaster said: "We are pleased to have reached an agreement with the parties concerned.
"Discussions will now continue with our broadcast partners and we expect to be in a position to make a further announcement next week on broadcasting rights and the on-going EBT investigation."
McCoist, however, was scathing in his assessment of the SPL and SFA. He said: "In recent days, I have been in a number of meetings with Stewart Regan, Rod Petrie and other senior SFA figures - and despair at the lack of leadership shown.
"In my years in professional football, I have not always agreed with everything the SFA did or said. But, no matter what you thought of their decisions, there was no doubt they ran the game firmly and robustly.
"I can only imagine Ernie Walker looking down on us now and shaking his head in disbelief at the sad state of affairs and the way they have been mishandled.
"As for the SPL, they seem determined to pursue as hostile an agenda as possible towards Rangers.
"They kicked us out of the SPL - which was their right- and we acknowledge that - but that doesn't seem enough for Neil Doncaster and some of his board.
"Not only as they withholding our SPL prize money for last season - they won't tell us how much it is but we reckon it to be about £1.3m.
"And having said they don't want us - they do want a bigger share of the TV money that our presence will bring to the SFL and its clubs. Never mind sporting integrity - where is the moral integrity there?"
'Move forward'
Rangers chief executive Charles Green said: "The agreement signed today allows Rangers to be granted membership by the SFA and finally enables the club to move forward.
"The board, the manager and senior executives have been working tirelessly over the last few weeks to secure the future of the Club and today is the start of that process.
"The board has had to take some very difficult decisions to gain SFA membership, including accepting the delayed transfer ban and paying outstanding financial penalties. But we are now able to get back to playing football and plan for the new season, starting this Sunday with our match against Brechin."
But Green warned that the club would "stand up to any challenges" that faced Rangers - a clear reference to the unresolved issue of EBTs.
Brechin City chairman Ken Ferguson told STV News he was looking forward to Sunday's game, which is expected to draw a sell-out crowd of 4000 to Glebe Park.
"The ground's full to capacity and there'll be a party atmosphere here. First game of the season, what better way to start the new season?" he said.