Life sentence for Carluke killer
Killer of Lanarkshire man jailed for life with recommendation he should spend at least 15 years behind bars.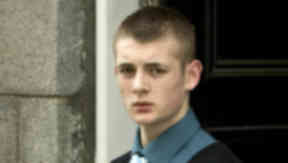 A teenager who killed a Lanarkshire man in a frenzied knife attack which left him with 142 separate injuries has been jailed for life.
Peter Allen, 19, left a knife lodged in Raymond Black's eye socket after the fatal assault in January this year.
At the time of the attack, Mr Black's two-year-old daughter was sleeping upstairs.
Senior detectives described the victim's injuries as the worst they had ever seen.
Allen was convicted by a jury last month at the High Court in Aberdeen of murdering Mr Black at the 48-year-old's home in Carluke, South Lanarkshire.
In court, it emerged that Allen regarded Mr Black, a father of five, as a friend.
On January 12 this year, Mr Black invited Allen in for a drink. Later that night, Allen launched his brutal attack.
Just weeks before the attack, Allen had been freed from prison after serving a six month sentence for assault. He had 17 previous convictions in all.
At the High Court in Edinburgh, judge Lord Brodie ordered Allen to be detained for life and said he must spend at least 15 years behind bars before being considered for release.
He told the killer he had inflicted an "extraordinary level of violence" on his victim.