Meet the doctor who is hoping to find new treatments for prostate cancer
Dr Prabhakar Rajan has been awarded £675,000 over four years from Cancer Research UK.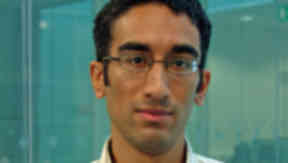 Prostate cancer is the most common cancer in men in the UK.
In Scotland, around 3000 men are diagnosed with the disease every year and around 1000 lose the battle.
But a Glasgow doctor is hoping to find new ways to treat prostate cancer and even cure the disease.
Dr Prabhakar Rajan is based at the University of Glasgow's Beatson Institute where he works as both a clinician and a scientist.
He has recently been awarded £675,000 over four years from Cancer Research UK to allow him to establish his own research group.
The 35-year-old is the first surgeon in the west of Scotland to have been given this award specifically to allow him to initiate his own research.
Dr Rajan said: "There are very few urologists in the UK who actually have one of these awards. It's something I can use to set up my own research group and my own lab to look at important questions both from a scientific perspective but also from a medical perspective as well.
"This is one of the first awards to be given to a surgeon in the west of Scotland and also to a urologist in the whole of Scotland so it's a prestigious award. But it's also really good for the region as well because it helps to put the region and also Scotland on the map in terms of prostate cancer research. It also raises awareness of prostate cancer and for men who have prostate cancer."
Dr Rajan has been working in the prostate cancer field for around eight years.
He said: "It's a significant disease burden and one of the biggest problems we have in prostate cancer is actually identifying patients who have early disease. Many patients who present with prostate cancer actually present with advanced disease that's spread beyond the prostate gland. For these patients there isn't really any cure.
"You can't remove the prostate gland with surgery and cure the patient, so for a lot of these patients we have to use treatments such as hormone therapy. This is only able to control the disease for a period of time, maybe something like three to five years.
"The disease then comes back and after that there are a number of different treatments that we try, but none of them are really that effective. So ultimately the survival for these patients is fairly poor."
But Dr Rajan has been trying to find ways to detect the disease early and also treat the disease after it has spread.
"What I've been trying to do is try to identify the ways that prostate cancer cells spread to different parts of the body using a number of different model systems in the laboratory. The idea is to try and see whether we can look at the ways that these cells express genes," he said.
"In the past ten years, scientists have found that the genes within the cells are far more complex than initially thought. I'm trying to unravel the complexities in the genes and see if we can find any that are more likely to make these cancer cells spread.
"The idea is if we can do that in the lab, and we can actually use some patient's samples that we've got from patients who have got advanced prostate cancer and prostate cancer that's spread to other parts of the body, then we can potentially develop some drug targets which we can then use to treat these patients to try and control the disease as effectively as possible.
"We are then trying to render an incurable disease potentially curable in the long term."
And the grant the Dr Rajan has received from Cancer Research UK will allow him to set up his own research team to develop some of these models in the laboratory.
Dr Rajan came to Glasgow in 2008 after studying in Cambridge, Edinburgh and Newcastle.
In his position at the Beatson Institute he is able to train as a surgeon and a doctor as well as undertake research.
He said: "I guess I've got two jobs. The thing that's really exciting about the job is that on the one hand you can see patients and treat patients and on the other hand you're actually trying to understand the disease processes that affect these patients and identify some potential treatments for them using knowledge of science and scientific expertise.
"It's really the variability and the fact that you can do both things in parallel which makes my job really interesting."
He added: "The grant is really going to enable me to spend more time in the research side of things, recruit staff in this research programme as well as continue clinical practice and treat patients with prostate cancer."
For more information on prostate cancer visit the STV Health Centre, brought to you by NHS inform.