From Bloody Friday to World War Z: a history of George Square
Ahead of a multi-million pound revamp, we take a look back at how George Square became the 'heart of the city'.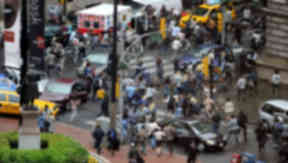 Once a private garden for residents of surrounding Georgian townhouses, now George Square's future is in the hands of the public.
A £15m revamp of the square is on the cards ahead of the 2014 Commonwealth Games in Glasgow.
Council leader Gordon Matheson says Glaswegians regard George Square as "the very heart of the city," but believes it currently looks "tired."
As STV Glasgow reported earlier in the year, the public has been invited to take part in a consultation. It will be followed by a design competition before councillors vote for a winner in November.
Meantime you can follow the highs and lows of George Square in the timeline below.
What are your memories of George Square? How would you spend the £15m on its future? Have your say below.