Rangers fan who killed Celtic supporter hours after Old Firm game jailed
Five years and three months in jail for man who pushed victim to the ground, kicked him and stamped on on his head.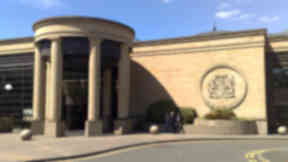 A Rangers fan who admitted killing a Celtic supporter hours after an Old Firm clash has been jailed for five years and three months at the High Court in Glasgow.
The court heard that David McKay, 28, pushed dad-of-three 51-year-old Patrick McBride to the ground and kicked him on the head and body and stamped on his head.
The impact of the blows was such that bones in Mr McBride's face were shattered and an imprint of McKay's shoe was left on his face and chest.
CCTV footage showed Mr McBride, who had been drinking heavily, lashing out with an open cut-throat razor seconds before he was assaulted.
The attack happened after a chance encounter at a kebab shop in Paisley Road West, Glasgow, on April 27, last year, hours after Celtic beat Rangers 3-2 at Parkhead.
McKay and another man, Christopher McConnell, 22, were originally accused of murdering Mr McBride. The Crown accepted McKay's  guilty plea to culpable homicide and McConnell's  guilty plea to assault.
The court was told that the pleas were accepted on the basis that McKay and McConnell, who were not known to one another, had acted under provocation.
The prosecution added that there was no evidence to conclude it was a sectarian or religiously motivated attack.
The court was also told that Mr McBride had a severely diseased heart and could have died of a heart attack at any time. A post-mortem examination revealed that the cause of death was heart disease and blunt force trauma of the face.
McKay's lawyer said that his client was genuinely remorseful and that the killing was something he would regret for the rest of his life, and he accepted that a custodial sentence was required.
Sentencing McKay temporary judge John Morris QC told him: "You have pleaded guilty to killing Patrick McBride and that I can't ignore. The only sentence I can impose is a custodial one.
"It gives me no pleasure to impose it on a hard-working man like yourself. Given that the Crown accepts that provocation was involved my starting point would have been eight years. However, I give you the full discount for your early guilty plea and reduce the sentence to one of five years and three months."
As McKay was led away to begin his sentence members of Mr McBride's family shouted: "Rot in hell," at him.
McConnell was ordered to perform 300 hours community service.