Dumbarton woman sues health board over detention in psychiatric ward
Woman claims she was allegedly assaulted and forcibly injected with anti-psychotic drugs at the Vale of Leven Hospital.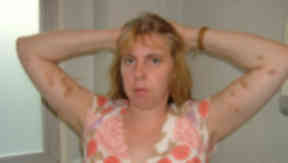 A Dumbarton woman is suing a health board over claims she was wrongly detained in a psychiatric ward with postnatal depression.
Claire Muir, 47, was allegedly assaulted and forcibly injected with anti-psychotic drugs when she was sectioned for seven weeks at the Vale of Leven Hospital.
She was diagnosed with "paranoid psychosis" by a doctor when she went for help after suffering a miscarriage. Ms Muir was released after her husband Andrew, 51, won the right for her to be assessed by an independent expert who ruled it was likely she was suffering from postnatal depression and was not mentally ill. She claims she then had to be weaned off strong anti-psychotic drugs which made her ill.
The couple have taken NHS Greater Glasgow and Clyde to court claiming Claire suffered "distressing pain and injury" while being detained against her will. 
Ms Muir said: "This whole ordeal has been torture for me and my family.
"It is unfortunate enough for women to receive little help overcoming a miscarriage, but to find yourself locked up in a psychiatric unit without explanation is just horrendous.
"I was grieving for my lost baby and trying to come to terms with everything.
"I clearly did not want to be given this medication, but they assaulted me by physically restraining me - giving me no choice.
"This is a distressing and shocking way to treat a person in this day and age."
Two days after she suffered a miscarriage her midwife called in a doctor because of how Ms Muir sounded over the phone. She was referred to a  consultant psychiatrist who she decided she should be detained in hospital on September 11, 2006.  The psychiatrist and a Mental Health Officer, granted a short term detention order under the Mental Health (Scotland) Act 2003 without consulting Andrew, Claire's husband of 10 years, which they claim is against the law.
The Muir couple also claim that the Mental Health Officer failed in his duty to interview Ms Muir before giving his consent to the detention certificate.
Ms Muir said she was then forcibly injected with psychiatric drugs 12 times in two weeks which led to her suffering from severe side-effects.
Ms Muir's family fought for her release from hospital at five mental health tribunals. She was finally released when she won the right of access to an independent health officer.
The Muirs are also suing the solicitor who represented her at the tribunals over claims she failed to cross examine the consultant to determine whether the criteria for detention had been met.
She is now fighting for her health records to be cleared so it no longer affects her driving licence and future work prospects. The couple have lodged a civil action against the health board at Dumbarton Sheriff Court.
A Greater Glasgow and Clyde spokeswoman said: "We have reviewed all aspects of the care and treatment provided to this patient and we are totally satisfied that all proper procedures were followed.
"This is now a legal matter and it would be inappropriate for us to comment at this time."