David Livingstone Centre to be transformed with £3.5m lottery grant
Refurbishment will see new buildings and collections opened at the Blantyre museum.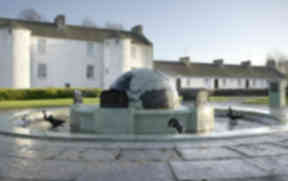 A museum dedicated to explorer David Livingstone will be transformed into a leading heritage centre after receiving a £3.5m lottery grant.
The David Livingstone Centre in Blantyre celebrates the life of the explorer and missionary.
It will now be completely refurbished in a multi-million pound project supported by the National Trust for Scotland and South Lanarkshire Council.
Historic buildings and collections will be opened up for visitors while the centre will also position itself as a seat of research and community learning.
Dr Isabel Bruce, chair of the David Livingstone Trust, said: "David Livingstone was a remarkable man who lived his life of education, exploration and missionary endeavour to the full, and is warmly known by many Africans as a visionary because of his views on their potential for self-development and his respect for their human rights.
"In spite of the recent Bicentenary events to mark his birth, it is still fair to say that today he is better understood and remembered in Africa than he is in the land of his birth.
"This project gives us the opportunity to reawaken his story and provide the memorial he deserves in Scotland, while enhancing his international legacy."
"Through showcasing the remarkable life and heritage of David Livingstone we will tell a powerful story that sets Scotland in a global context and presents a compelling universal example of what each of us can achieve – and what we have to offer the world."
The centre is formed around a single-roomed house in Shuttle Row, Blantyre, where Livingstone was born in 1813.
Originally intending to go to China as a missionary, Livingstone was fired by the conviction that the African slave trade might be destroyed through the influence of "legitimate trade" and the spread of Christianity, and embarked upon the travels that made him among the most famous of Victorians before his death in Africa in 1873.