Petition to replace Susan O'Brien QC on child abuse inquiry refused
Two Catholic charities claimed the QC's involvement in a previous case would be prejudicial.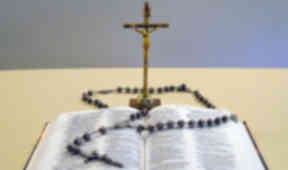 A petition for judicial review of the decision to appoint Susan O'Brien QC to chair an inquiry into historic child abuse in Scotland has been refused.
The Congregation of the Poor Sisters of Nazareth and the Daughters of Charity of St Vincent De Paul lodged a petition for judicial review at Edinburgh's Court of Session objecting to the Scottish Government's appointment of Susan O'Brien QC.
Their action centred on Ms O'Brien's involvement in a case brought against the Poor Sisters of Nazareth at the House of Lords by two former residents of Nazareth House children's home in Glasgow who alleged they were abused in the 1960s and 70s.
Ms O'Brien acted as counsel for the former residents in their 2008 appeal which unsuccessfully challenged an earlier court ruling that the claims were time barred, or made too late.
In June, Alastair Duncan QC, representing the charities, told the Court of Session: "The particular concern that my clients have is that Ms O'Brien had acted for individuals alleging abuse against them, that she had supported the allegations that were made by appearing as counsel for those individuals and that she is now being asked to adjudicate on the very same issues."
Mr Duncan said the allegations that arose in the House of Lords case were "almost certain" to be heard again at the public inquiry.
"On the same issue with the same parties, Ms O'Brien has moved from being an adviser to being a decision maker," he said.
"She was the adviser on how to take these allegations past the time bar problem to a successful outcome for her clients against my client.
"She is now to be the decision maker on that issue."
On Wednesday, Lord Woolman said he did not accept the submission that Ms O'Brien "supported" her clients' claims, in the sense that she was seen to personally endorse their veracity.
He said: "She only acted for the claimants at a very late stage to argue a point of law. She simply advanced her clients' case to the court.
"Ms O'Brien's narrative of her career discloses that she had a wide-ranging practice covering many areas of the law. She represented pursuers and defenders. In particular, she acted both for and against the government. She could not be identified with only one side."
Lord Woolman held that Ms O'Brien did not have a close association with an interested party to the inquiry.
The judge also held that the petitioners had failed to establish apparent bias.
Refusing the petition, he decided that a fair-minded and informed observer would be aware that the inquiry "will not determine liability" and that Ms O'Brien "did not support her clients' claims".
A Scottish Government spokesman said: "We welcome Lord Woolman's decision, which means that Ms O'Brien can continue the work she began this morning as the chair of the inquiry."