Glasgow City start talks over Britain's first women's football stadium
The club are hoping to move away from Petershill and build their own ground in East Dunbartonshire.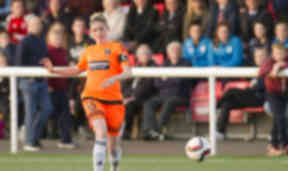 Glasgow City Football Club have entered talks with East Dunbartonshire Council to create Britain's first purpose built women's football stadium.
The Scottish champions hope to build their new ground on a site in the suburb of Auchinairn.
Plans include a fully professional standard pitch for Champions League football as well as training facilities for wider community use.
Glasgow City currently play at Petershill Park and have also used Airdrie's Excelsior Stadium for certain European games.
Chairperson of Glasgow City Foundation, Douglas Barnett said: "We are delighted to be working with East Dunbartonshire Council and agreeing the memorandum of understanding is a great step forward.
"Glasgow City Foundation was set up to make a difference and we believe Auchinairn affords a unique opportunity to use the success of our club, our players and our volunteers to inspire the local community to lead a positive, happy and healthy life.
"Potentially this will be the first purpose-built women's football facility in the UK - promoting the sport to new generations of girls and women."