Torture and rape victims detained at Dungavel, report reveals
Prisons watchdog report revealed vulnerable detainees were held at immigration detention centre in Lanarkshire.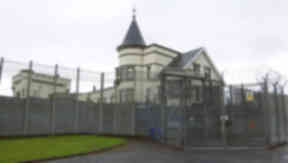 Concerns have been raised after it was found a torture victim and woman who had been raped were held at a Scots immigration detention centre.
A report by Her Majesty's Inspectorate for Prisons (HMIP) has revealed vulnerable detainees were held at Dungavel Immigration Detention Centre in Lanarkshire.
This is despite rules in place in order to prevent such incidents. It was also found that some of those held at Dungavel had been detained for prolonged periods of time.
However, the safety and treatment of detainees at Dungavel was found to be good and violence at the centre is low.
The report also found there was good support for those at risk of self harm and security was generally proportionate but detainees were routinely handcuffed for outside appointments, regardless of individual risk.
Section 35 of the 2001 Detention Centre Rules states that a report must be compiled on people whose health, both mental and physical, may be adversely affected because of detention.
It includes people who can provide evidence they were tortured or abused in their homeland.
The reports, known as Rule 35 reports, are passed to the Home Office who rule on the whether or not to release the person in question from a detention centre.
The prisons watchdog raised concerns about the quality of Rule 35 reports at Dungavel, stating they were "too variable".
The report reads: "The quality of Rule 35 reports was too variable, and in compelling cases detention had been maintained despite identification of torture and serious health issues.
"Rule 35 reports should include diagnostic findings and be given due weight by Home Office decision makers.
"Detainees who have experienced torture or who have serious health issues should not be detained.
"The quality of Rule 35 initial reports was variable and it was unclear why some people, including a torture survivor, had been detained at all."
The report added: "Some detainees had been held for long periods, with one detainee having been held for two and a half years. Some cases of prolonged detention had resulted from avoidable casework delays, especially in the processing of asylum claims.
"Two of the ten Rule 35 reports we looked at had led to release, but in other compelling cases detention had been maintained. For example, a torture survivor and a woman with serious health issues had both been kept in detention.
"Detainees reported generally good access to local immigration staff. Few monthly progress reports were outstanding and immigration induction interviews were good."
Those detained at Dungavel reported positively on their treatment by escort staff. However, "delayed or confused escort arrangements had had a serious impact" on some detainees, and the high number of night-time moves was "unacceptable", the report found.
Detainees were nearly always handcuffed for outside appointments, regardless of individual risk.
A Home Office spokeswoman said: "We are pleased that HMIP has found that Dungavel House is a safe place, where detainees are given the support and help they need.
"Detention and removal are essential parts of effective immigration controls, helping to ensure that those with no right to remain in the UK are returned to their home country if they will not leave voluntarily.
"It is used as a last resort and for the shortest period necessary. Decisions to detain an individual are reviewed regularly to ensure they remains justified and reasonable — and, if necessary, can be challenged through the courts.
"Parliament demonstrated its support for our policy when it rejected proposals to limit the length of detention during the passage of the Immigration Act last year.
"We take our responsibilities towards detainees' welfare extremely seriously. That is why the Home Secretary has commissioned an independent review of detainees' welfare to be conducted by the former prisons ombudsman Stephen Shaw. This is expected to be completed in the autumn."
Scottish Trades Union Congress (STUC) general secretary, Grahame Smith, said: "Today's Her Majesty's Inspectorate of Prisons (HMIP) report vindicates the concerns that the STUC and civil society organisations have voiced with respect to the operation of the asylum system in Scotland and the welfare of detainees in Dungavel.
"It is simply unacceptable that one person was detained for two and a half years and many more detained for over six months with little that staff can do to mitigate the mental anguish and damage to health that ensues.
"We are equally concerned at the treatment by the system of particularly vulnerable detainees, including a rape victim and a victim of torture, and the apparent failures of the Rule 35 reports. We also demand the immediate end of night-time removals to and from the centre.
"The UK remains the only country in Europe which permits indefinite detention and it is simply impossible for any centre, supposedly designed for removal to adequately mitigate such a barbaric system.
"We reiterate our call for the closure of Dungavel and for community based solutions to be used to oversee the effective, humane operation of refugee and asylum policy in Scotland and the UK."
Feedback: We want your feedback on our site. If you've got questions, spotted an inaccuracy or just want to share some ideas about our news service, please email us on web@stv.tv.
Download: The STV News app is Scotland's favourite and is available for iPhone from the App store and for Android from Google Play. Download it today and continue to enjoy STV News wherever you are.
Join in: For debate, chat, comment and more, join our communities on the STV News Facebook page or follow @STVNews on Twitter.
Updates: Would you like STV's latest news update in your inbox every morning? Choose from our range of regular e-newsletters here