Cyber hackers target Scots with computer virus then ask for 'ransom'
The 'ransomware' disables the computer completely then tells user to pay a substantial sum to use their device again.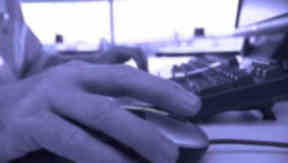 Computer hackers are targeting Scots with a malicious computer virus then asking for "ransom" money to fix the problem.
Police are warning computer users across Scotland to ensure their devices have the latest security software installed.
The alert follows an increase in malicious attacks which locks out users from the data on their computers.
The "ransomware" attack encrypts the data and disables the computer completely.
It then tells the computer user they have to pay a substantial sum, or "ransom", to be able to use their computer device again.
However, even if they do, there is no guarantee this will work, and they can also become vulnerable to repeat attacks.
Every computer user is vulnerable to the malware, and Scotland has been targeted because of the high number of small to medium sized businesses.
These are vulnerable to attack because they often do not have the IT resources of larger companies.
Computers can be attacked in a number of ways, such as by opening a malicious attachment hidden in an an email or clicking on a link in a social media message.
Devices can also be infected by visiting a website which has been corrupted, inserting a corrupted USB device, such as a mobile phone, memory stick, external hard drive of a music player.
Detective chief inspector Willie Cravens, operational lead for Police Scotland's cybercrime unit, said: "This is a sophisticated attack which, in most cases, virtually destroys a computer and could cost the victim hundreds of pounds to replace.
"There is no guarantee they will be able to get back into their machine, and even if they do, would have to completely wipe the hard disk and start from scratch.
"Paying the "ransom" – often several hundred pounds – to "unlock" the computer does not solve the problem because there is no guarantee the fraudsters will do this, and it also makes the victim vulnerable to repeat attacks.
"This can be extremely annoying and expensive for members of the public, who may have lost irreplaceable family photographs and important documents, but devastating for a small business, such as a farm, whose business could be wiped out by losing access to all of their files, such as accounts and crucial business documentation."
In order to prevent people becoming victims, Police Scotland is advising every computer user to ensure they are running the latest versions of security software.
People are also being asked to have their data backed up regularly to cloud services or devices not connected to their computer.
DCI Cravens added: "There is a lot of help available online for both individuals and businesses and useful advice for everyone can be found at: https://www.getsafeonline.org/protecting-your-computer/ransomware/
"For businesses, Cyber Essentials is a new Government-backed and industry supported scheme to guide businesses in protecting themselves against cyber threats., and further information can be found by clicking on http://www.cyberstreetwise.com/cyberessentials/?&nginxId=a3fbc631-cfe9-4f59-cf20-8bffdeffb515."