Tata Steel confirms 270 job losses at two plants in Scotland
Tata said it would stop production of steel plate with Dalzell and Clydebridge mills to be mothballed.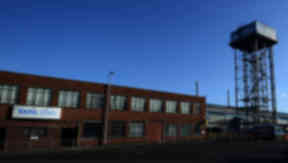 Tata Steel has confirmed it will shed 270 Scottish jobs at two steel mill plants in Scotland as part of nationwide cuts in the business.
Workers at the Dalzell mill in Motherwell and at Clydebridge in Cambuslang are affected, with 900 jobs also being cut at its plant in Scunthorpe.
On Friday it emerged the jobs would be under threat after challenges in the industry such as "surging imports, compounded by the strong pound and uncompetitive policy costs".
The company confirmed its Long Products Europe business would stop production of steel plate with mills in Scunthorpe, Dalzell and Clydebridge being mothballed.
Karl Koehler, chief executive of Tata Steel's European operations, said: "I realise how distressing this news will be for all those affected. We have looked at all other options before proposing these changes.
"We will work closely with affected employees and their trade union representatives. We will look to redeploy employees, wherever possible, and minimise employee hardship.
"The UK steel industry is struggling for survival in the face of extremely challenging market conditions. This industry has a crucial role to play in rebalancing the UK economy, but we need a fairer system to encourage growth.
"The European Commission needs to do much more to deal with unfairly traded imports – inaction threatens the future of the entire European steel industry."
Speaking outside Dalzell steelworks, Tata Europe HR director Tor Farquhar said "every possibility had been explored to keep the sites open".
He added: "It's an extremely difficult day for the employees most of all, and for the company.
"It's a day we've tried to avoid and done everything we possibly can to try and find a profitable future for these parts of the business, but the steel industry in the UK faces massive challenges.
"The challenges are several fold but the biggest challenge is really the Chinese steel industry and the amount of imports coming into Europe, which is the same tonnage as the whole steel capacity of Europe.
"In that situation the steel price has collapsed and that's made businesses which are struggling for survival really have to fight very hard for their future, and I'm afraid today's announcement is a consequence of that global picture.
"If there is any chance of these plants reopening then we must ensure that's a possibility so the responsible thing to do is mothball the plants, but we wouldn't be making an announcement like today if we felt that we could keep running these plants."
The move means steelmaking will effectively end in Scotland and Nicola Sturgeon has established a Task Force to seek a viable alternative to the potential mothballing.
The First Minister will also visit both plants on Thursday to meet with employees, unions and management.
Ms Sturgeon said: "This is a very anxious time for Tata Steel employees and their families and is deeply concerning for everyone involved.
"My government is determined to fight for a future for our steel industry.
"That is why I have established a Scottish Steel Task Force to be chaired by my business minister Fergus Ewing that will bring together all the key representatives to work to keep the Dalzell and Clydebridge plants open.
"We will leave no stone unturned in our efforts to keep the plants open and support the 270 staff affected by today's announcement."
The Task Force, meeting for the first time next Thursday, will include representatives from Tata Steel, trade unions, North Lanarkshire Council, South Lanarkshire Council, Scottish Government agencies and local politicians.
Trade union Community, which represents steel workers, wants the Government's task force to support a "short-time working programme" which would keep the plants open while a long-term solution was sought.
Assistant general secretary John Park said: "Scottish steel is facing its biggest test in a generation. These developments are hugely worrying not only for Scottish industry but for the communities around Motherwell and Cambuslang.
"Workers in the Scottish steel industry have done everything asked of them to ensure they can compete in a global marketplace. We are in the middle of the worst slump in steel prices in living memory and it is essential we maintain our capacity to produce steel in Scotland.
"We welcome Nicola Sturgeon's announcement of a steel task force, but it cannot simply be an exercise in managing decline. If the Scottish steel industry is to have a future, then Nicola Sturgeon must ensure the strategic assets at Dalzell and Clydebridge are maintained."
Asked whether the Government could do anything to help British steel companies, Prime Minister David Cameron's official spokeswoman told a Westminster media briefing: "We recognise the enormous challenges facing the steel sector and we have been working with industry on this to see what more can be done.
"That's why we convened the summit last Friday to really focus minds and provide an opportunity for ministers to have discussion with the industry.
"We are concerned about the situation and will continue working with the industry to see what more can be done."
She also confirmed Mr Cameron was expecting to raise the issue of steel in talks with Chinese President Xi Jinping in Downing Street on Wednesday.
"It will be an opportunity to talk about the different challenges facing our economies and the way that decisions taken by one impact on another," she said.
"There are a number of challenges facing the UK steel industry. Competitive pricing from China is one of those, but so is global over-production and the fall in the steel price."
John Pentland, Labour MSP for Motherwell and Wishaw, added: "I was a steel worker when our industry was slashed by Thatcher. That axe was an ideological attack by the Tories on the steel industry, the people who worked in it and their communities.
"We are still recovering from the damage done by closing Ravenscraig. It shattered this area, and in Motherwell and Wishaw we are still picking up the pieces, trying to rebuild and regenerate the local economy, jobs and communities.
"Now we are under attack again, and the fear is both the UK and the Scottish government will stand by and allow it to happen, waiting in the wings with half-hearted promises to pick up the pieces when we are shattered again.
"A quarter century after Ravenscraig we don't want another massive setback, we want action that offers hope of a future for the steel industry in Scotland."
Feedback: We want your feedback on our site. If you've got questions, spotted an inaccuracy or just want to share some ideas about our news service, please email us on web@stv.tvweb@stv.tv.
Download: The STV News app is Scotland's favourite and is available for iPhone from the App store and for Android from Google Play. Download it today and continue to enjoy STV News wherever you are.
Join in: For debate, chat, comment and more, join our communities on the STV News Facebook page or follow @STVNews on Twitter.
Updates: Would you like STV's latest news update in your inbox every morning? Choose from our range of regular e-newsletters here.