Sex offender attacked third victim and told police: 'I am an animal'
Martin Smith pounced on woman he tailed on Aberdeen bus in July this year before fleeing the scene.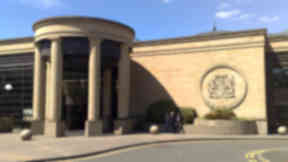 A serial sex offender attacked his third victim in nine years and later told police: "I am just an animal".
Martin Smith tailed a woman off a bus in Aberdeen in July this year before pouncing on her.
The 27-year-old ex-soldier struck having previously been jailed for two copycat attacks.
Smith was soon snared and stated to detectives: "I'm sick. I just need to be put down."
He could now face a life sentence after hep led guilty at the High Court in Glasgow to assaulting his latest victim with intent to rape.
Smith attacked the 28-year-old woman in the early hours of July 26 this year as she returned home from a night out in Aberdeen city centre.
He followed the stranger off a bus they had been travelling on before pushing her against a car in the city's Westray Road and calmly told her to strip.
The victim began screaming, but Smith forced his fingers in her mouth to try and stop her cries.
Prosecutor Alan Cameron told how the woman believed she was going to be raped.
Residents meantime heard screams as Smith attacked his petrified victim.
As one came out to help the woman, Smith suddenly stopped and fled the scene. Police soon began a hunt to catch the attacker.
One officer, who had dealt with Smith in the past, believed he could be involved. Police went to his home in the city's North Anderson Drive and could see him in "apparent distress".
His door was forced open and it appeared he had tried to kill himself.
He then blurted out to officers: "Why did you not just let me die? I am just an animal.
"I did not mean it - just leave me. What have I done? I don't know what the f*came overme.
"I won't hurt anyone else - just let me die and I'll deal with the consequences.
"I'm sick as f*. I just need to be put down. What was I thinking?"
Smith also insisted he "deserved to be locked away".
He went on: "What's the point in saving someone's life when they have ruined someone else's?
"That will be life in jail. I won't be getting out until I'm 96 or 97."
During a later interview, he claimed he had been"horny" that night having been out drinking and "wanted to see a lassie naked".
Advocate depute Mr Cameron told the court: "He said he was not going to rape her although added he did not know what he had intended to do."
The victim was left badly affected by her ordeal.The court heard she quickly became withdrawn and has not been able to go on a bus since.
The woman felt "panicked" during a train journey to see a boyfriend in England and insisted he collect her when she got off.
It was also heard she waiting to see a counsellor.
The court was told Smith was jailed for four years in 2006 for abduction and intent to rape.
Similar to the latest offence, he followed a nurse off a bus and attacked her in the grounds of Aberdeen's Wood end Hospital.
He was freed early in March 2008 but just months later he struck again.
Smith pounced on a woman at a block of flats in Aberdeen, covered her mouth and told her not her not to scream.
But the victim was spared after she bit his hand and he raced off. He was locked for four months in June 2009 after pleading guilty to assault.
Smith was also ordered to serve the remainder of his first jail-term before being put back on the streets in January 2013.
Prosecutors asked for a Risk Assessment Order to be carried out on Smith. This could eventually result in Smith being hit with astrict Order for Lifelong Restriction.
Judge Lord Turnbull remanded him in custody and adjourned the case until February next year.