Hero puppy saved my six-year-old daughter's life, says mother
Labrador Baxter alerted Amanda Goodman when Olivia suffered a seizure at their home.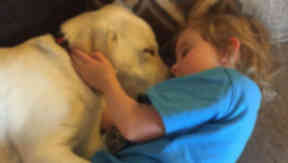 A hero puppy has been hailed for saving the life of a six-year-old girl who was found choking on her own vomit during a seizure.
Nine-month-old Labrador Baxter alerted mother Amanda Goodman of the trouble facing young Olivia when she fell ill on Thursday afternoon.
After being sent home from school with a fever, Olivia was lying on the couch with her mother and the family pet on the other couch in the living room of their Renfrew home.
However, the fever became much worse and the girl started vomiting while lying on the couch with her face against a pillow, causing her to choke.
Amanda, 32, told STV News: "My daughter was on the sofa sleeping off a cold and had rolled face first into her pillow, vomiting and in a seizure state.
"My Labrador pup alerted me soon as it had started, barking at her side adamantly and I shouted at him many times to be quiet not to wake her.
"He continued to pace the living room and bark at her and growl at myself until he jumped on her, knocking off her covers.
"Then I seen she was fitting and the pillow blocking her airway."
After calling for an ambulance Olivia was taken to the Royal Hospital for Sick Children at Glasgow's Queen Elizabeth University Hospital.
It took the youngster five hours to come down from the six-minute seizure and she was kept in overnight while father Stewart, 36, rushed home from his job offshore in the North Sea.
Since returning from hospital, Baxter has remained at Olivia's side while she recovers before going back to St James Primary School.
Ms Goodman said she was lucky the puppy enjoys a close bond with both of her daughters.
She added: "Olivia spent the night in hospital and is now doing well. She owes her life to this puppy.
"When she was three she suffered a febrile convulsion which are normally quite common in children but this was very different.
"She has been there for Baxter ever since he was born. They are so close and really are joined at the hip.
"It's the same for my other daughter, Sophie who is also off from school just now with a virus. They're all really close.
"He's our hero."