Plans to launch 24-hour gym with burger restaurant in Glasgow
Glasgow's oldest garage could house three restaurants if plans are given the green light.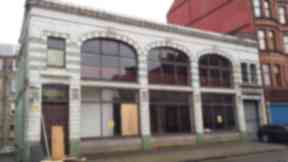 Plans are in motion to open a 24-hour gym with a burger bar in Glasgow's west end.
Developers hope to revamp an empty garage on Vinicombe Street to house a new gym alongside three licensed restaurants and a community space.
London-based burger chain Byron is expected to set up shop in the premises, having already announced plans to set up in Glasgow city centre, Edinburgh and Aberdeen.
Owners originally hoped free space inside the listed building would be taken up by a retail unit, but was forced to consider other uses after the property "produced no retail interest".
The premises is also expected to house an Italian restaurant and ancillary delicatessen run by the Carluccio's chain, as well as a new venture run by Ox and Finch restaurateur Jonathan MacDonald.
Gym facilities will be run by pay-as-you-go company The Gym Group and will operate seven days a week.
Trading hours for the restaurants are said to vary but none will operate after 12am.
If plans are approved, the Botanic Gardens Garage - also the oldest garage in the city - will receive an overhaul led by architects Keppie Design.
Current owners Arnold Clark planned to demolish the building in 2007, but withdrew plans after locals campaigned to save it.
Originally designed by David V. Wyllie in the early 1900s, the building has lain empty for several years and is now on the buildings at risk register.
Arnold Clark originally submitted a planning application to transform the garage into a 24-hour gym in June 2013, which was approved the following year.
The building requires various repairs before reopening including work to the stone facade, window frames, roof trusses and concrete flooring. The building will also have an area of outdoor seating for restaurant patrons.
The current proposal states: "The building has been vacant since 2006 and the owner is anxious to see it brought back into productive use as soon as possible.
"In the absence of an occupier for the approved retail unit the applicant has had no choice but to consider a wider range of potential uses consistent with the property's location and physical form.
"Arnold Clark has confirmed its intention to retain ownership of the building given its historic connections with the company.
"It should be noted that part of the existing shop unit and basement is to be retained and made available by Arnold Clark for community purposes. This could include a meeting space for local community groups, a venue for charity events, art exhibitions or elements of the West End Festival."